Buffs Football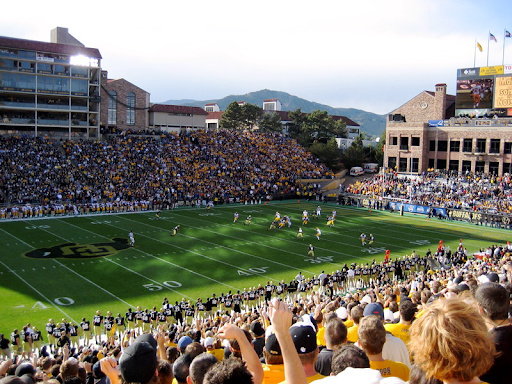 The CU Buffs have been having a slow season so far, but it looks like Buff energy has brought up the morale of the team to give them a new boost. 
This past Saturday, October 16, was parents weekend for Buffs students. Families came from all over the state and nation to visit the beautiful campus on a picturesque fall day while reuniting with their students. The point of CU's family weekend is to bring a family atmosphere to Boulder's campus and unite the school community. The stadium was packed with fans and this season has shown record attendance, following a year of no spectators. 
There were even activities like Family Trivia, Educational Sessions, a 5K Fun Run & Walk, Family Tailgate, and of course the infamous Pearl Street Buff Stampede. 
This season, a popular fan attraction has been Ralphie VI or "Baby Ralphie." After Ralphie V retired last season, Buffs pondered what the future of the school's mascot would look like. The answer: a 16 month-old baby buffalo. This is not just a mascot, it is a CU tradition to run Ralphie before the game to get the fans rallied up. It was evident that all of the fans in Boulder for family weekend loved the little fellow!
For parents weekend, the Colorado Buffaloes played the Arizona Wildcats. This opponent came in as a big underdog as Arizona has not won a single game this season. This morale boost must have been just what the Buffs needed because the final score was 34-0, with a win for Colorado's finest. 
This W for CU was just another game added to the long losing streak for Arizona, 18 games to be exact. 
Some notable star players of the game were the Brend(o/e)ns. Brendon Lewis, freshman starting quarterback from Texas, had some awesome passes. Brenden Rice, freshman wide receiver from Arizona, caught three passes getting 111 yards. 
This was CU's first win since their first game of the season against Northern Colorado, which ended in a triumphant 35-7. They are going to have to pick their heads up and stay humble in order to prepare for their intense competition next weekend against California. 
Looking forward at the rest of the season, the PAC-12 is proving a challenge, but not impossible for CU. They are scheduled to play California away on the 23rd at 1:30!
Last season, CU ended up 4-2 with three games cancelled for COVID reasons. So, it is exciting to see where they will end up this season and if they are going to use this big win to help drive motivation for future games. Confidence up? We will see.
Below is a brief schedule and summary of the season:
Past Games:
UNC, 37-7 W at home
Texas A&M, 7-10 L at Mile High
Minnesota, 0-30 L at home
Arizona State, 13-35 L away
USC, 14-37 L at home
Upcoming Games:
California, 10/23 @ 1:30 away 
Oregon, 10/30 @ tbd away
Oregon State, 11/6 @ tbd homecoming game at home