SNL Back for its 47th Season: Episode 1 Recap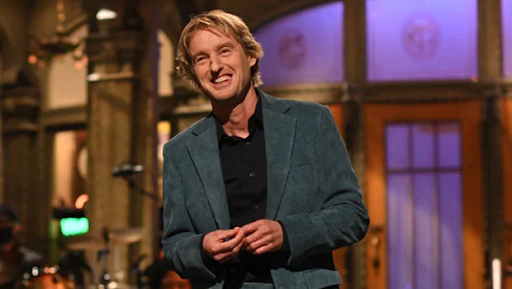 SNL is back for its 47th season with a ton of new cast members and some old favorites departing. The premiere was last Saturday with host Owen Wilson and musical guest Kacey Musgraves. Get ready because… Live from New York it's Saturday night!!!
New Cast Members/Old Favorites Leaving: 
After the end of the 46th season it was rumored that a lot of beloved cast members such as Aidy Bryant, Pete Davidson, and Cecily Strong would all be departing the next season. However when they appeared on the premiere of the 47th season it shocked the viewers. There are a few cast members that did leave the show such as Beck Bennet who became a regular in 2015 and has been there for 8 seasons and Lauren Holt who was added to the cast just last year. 
The whole ensemble cast for the season includes: Pete Davidson, Kate McKinnon, Aidy Bryant, Cecily Strong, Kenan Thompson, Michael Che, Mikey Day, Chloe Fineman, Heidi Gardner, Colin Jost, Alex Moffat, Kyle Mooney, Ego Nwodim, Chris Redd, Melissa Villaseñor, and Bowen Yang.
Cold Open: A New President Biden 
You may recall that last season, they didn't have the easiest time finding a Biden impersonator. They relied on guest star Jim Carrey to fill the role during the 2020 presidential election, but he announced he would be leaving the show after only six weeks of playing the president. Since they were still part way through the season, cast member Alex Moffat fished out the season as him. This left the question: who was going to play Biden for the 47th season? 
New cast member James Austin Johnson, who is known for being an impersonator of Donald J. Trump on the internet, was hired this past Monday.
When the new cast members first arrive at studio 8H as a new cast member, they can at best expect maybe a single line in the whole show. Some might not even make it on the show for a long time. But Johnson was in the cold open this week, catching the world up on current events and trying to get democrats to come to an agreement on his domestic agenda. 
Women's Talk Show: 
The Women's Talk show was a sketch with Ego, Heidi, Cecily, and Aidy who are the four hosts of a show called The Talking. Owen Wilson then interrupts them as a doctor announces Heidi has tested positive for COVID, and he asks her some very personal details live on air. This is actually a reference to a real moment on The View where Sunny Hostin and Ana Navarro were whisked away from the set after a producer announced they tested positive for COVID.
Weekend Update: 
Colin Jost and Micheal Che reminded us that in last season's premiere with host Chris Rock a lot was going on. They asked us to bear with them because right now the biggest news is infrastructure. A quote about the infrastructure included, "The infrastructure bill has been delayed indefinitely, so I guess we'll cross that bridge when it collapses on top of us."  They also talked about how they are now free from "Trump's political circus", and they will be freer to be more funny and how bad things are currently going.  
Towards the end of Weekend Update, they paid tribute to SNL alum Norm MacDonald, who played the segment's former anchor (from 1994 to 1997), who died last month at the age of 61.  Current Weekend Update anchor Colin Jost said that Macdonald "is the reason that I ever wanted to do Weekend Update," then introduced a set of clips of Macdonald delivering some of his past Weekend Update jokes. 
Splitting the Check: 
Another hilarious sketch to come out of this episode was Splitting the Check. In the nearly four-minute clip, a dinner party of six struggles to agree on how to split the check since one guest (played by Owen Wilson) ordered a lot more than the others. When the bill arrives, Cecily Strong opens the debate by saying "how should we do this?" One character tries to avoid the awkwardness by just paying for it all himself. While the others suggest splitting it six ways. But Owen Wilson denies almost everything he ordered, making for a hilariously realistic sketch.   
Overall, the abundance of funny sketches was a great way to start out Season 47. Owen Wilson did a fantastic job and hopefully we can see him return again sometime in the future. In the month of October there will be new episodes almost every week, with hosts such as Kim Kardashian West, Jason Sudeikis, and Rami Malek. The next episode will be on October 9 with Host Kim Kardashian and musical guest Halsey.