Rockies Injury Report: Austin Gomber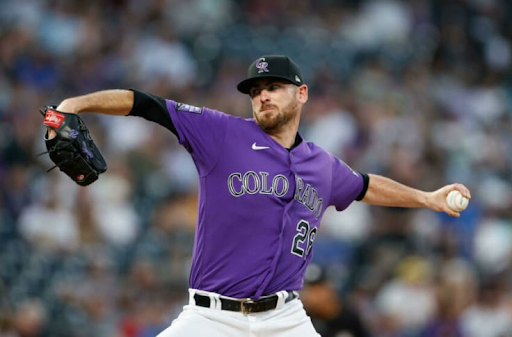 The Colorado Rockies have been down on their luck as of recently with Austin Gomber.
As of a couple of days ago we learned that left-handed pitcher Austin Gomber will miss the rest of the season after doctors discovered a stress fracture in his lower back. This injury is not uncommon in baseball especially with pitchers since it's usually related to overuse.
Gomber was acquired by the Rockies in the offseason as part of the trade that sent superstar third-baseman Nolan Arenado to St.Louis. He is expected to be back to full health in a couple of months; however, the baseball season will be over in a couple of months unless the Rockies go to the World Series, which is deemed very unlikely.  Manager Bud Black spoke out in an interview, "He'll be fine in a month or two. It won't impact his offseason. It won't impact next season." 
Rockies fans suspect something might have been wrong with him, due to his terrible pitching these last few weeks. 
His Pitching These Last Few Months: 
In a recent game against the Rangers where they lost 4-3, Gomber struggled again. In 4 ⅓ innings, he gave up four runs on four hits, two of those being home runs by Nathaniel Lowe and Leody Taveras. Even more concerning, Gomber walked six. 
What really made Rockies fans question what was happening was due to the fact that he was pitching well a couple of months before. From May 29 to July 21, he pitched a total of 23 innings without issuing a walk, which was the longest streak in Rockies history by a starter. The fact that he went from not giving up a single walk in a couple of months to giving up six walks in one game was quite concerning to manager Bud Black. 
These past couple of games Gomber didn't make it through the fifth inning in either of his two starts, both losses, due to his apparent injury. After tests from doctors, they concluded that he strained his back and most likely would not be able to play for the remainder of the season. 
Ryan Feltner, who was called up from Double-A Hartford, will be making his major league debut in place of Gomber. In other moves, the Rockies also placed infielder/outfielder Connor Joe on the 10-day injured list due to a strained right hamstring. Joe injured himself while running the bases during a game against the Braves. Right Hander Jordan Sheffeild also was reinstated from the 60-day injured list and infielder Joshua Fuentes was recalled from Triple-A Albuquerque.