The Peak of the 2021 Hurricane Season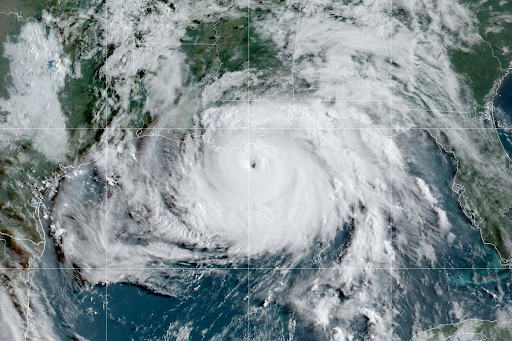 Following the hyperactive 2020 Atlantic Hurricane Season that shattered numerous records, the 2021 Hurricane Season has begun wreaking havoc in the coastal United States. What made the 2020 Hurricane Season particularly stunning? Additionally, what is expected and currently going on within the 2021 Atlantic Hurricane Season?
What Exactly Is Different About a Tropical Cyclone?
According to the National Weather Service, a tropical cyclone is defined as having "a warm-core, low pressure system without any 'front' attached, that develops over the tropical or subtropical waters, and has an organized circulation." Additionally, according to the NWS, conditions that would be conductive for tropical cyclones would be of the following:
Warm Ocean Waters of at least 80

o

F that would have a depth of at least 150 ft.

Moisture in the

troposphere

that isn't dry. This would also include atmospheric conditions that would cool fast enough for height that wouldn't be stable for moist convection. 

A pre-existing surface disturbance. 

Lack of Significant Wind Shear that would disturb storm formation or convection. 
Moreover, a tropical cyclone has different areas of formation based on matching areas with conductivity of these cyclones being practical including the Northern Atlantic Ocean, Eastern/Western Pacific Ocean, Northern Indian Ocean, and even more development locations. These areas are conductive due to having relatively warmer ocean water that would produce more condensation that gives power to these disturbances.

The Hyperactive 2020 Hurricane Season:
Extensive reports were given to the 2020 Atlantic Hurricane Season that produced a whopping total of "30 named storms and 11 landfalling storms in the continental United States." according to NOAA. The season produced record activity that even surpassed the 2005 Hurricane Season, which produced infamous storms like Hurricane Katrina and Rita. Both 2005 and 2020 also produced storms that passed the normal naming list into greek letters for additional names. This included the disastrous storms like Eta and Iota in the 2020 Atlantic Hurricane Season. CNBC confirms this information by stating how, "The World Meteorological Organization ran out of hurricane names in the alphabet in September, when Tropical Storm Wilfred developed in the eastern Atlantic Ocean. Meteorologists resorted to using Greek letters, which they've only done once before, in 2005." 
Throughout the 2020 Hurricane Season, many areas were completely devastated from numerous storms but also powerful storms. This includes Hurricane Laura that affected Louisiana heavily, and the devastation in Nicaragua from both Hurricanes Eta and Iota that struck nearly the exact same area at Category 4 Hurricanes. There was also damage from Hurricanes Hanna, Isaias, Sally, Delta, and Zeta in the United States. Moreover, there were watches and warnings along the entirety of coastal counties of the United States except for one county in Florida.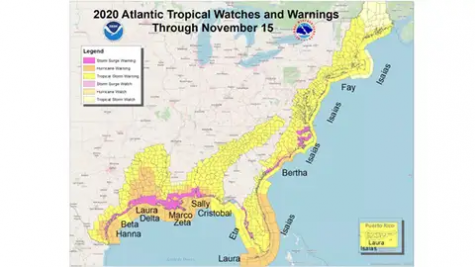 The Current State of the 2021 Hurricane Season:
The 2021 Atlantic Hurricane Season has been underway as of September 9th, 2021. There have been a total of 13 named storms, 5 hurricanes, and 3 major hurricanes within the Atlantic basin. The hurricanes that have been named so far in this season have been Elsa, Grace, Henri, Ida, and Larry. Grace, Ida, and Larry have all been major hurricanes respectively. 
There has also been unprecedented event within this season with Hurricane Ida slamming the state of Louisiana and drenching the Northeast causing destructive damage. It is estimated that Hurricane Ida created over $50 billion in damages. It has caused 82 fatalities in total as of September 9th. Ida slammed as a category four hurricane with winds of 150 mph. This hasn't been seen since Hurricane Laura in 2020 that also hit the state with an extremely similar intensity. Furthermore, before Laura and Ida, the last hurricane to hit Louisiana at similar wind speed was the 1856 Last Island Hurricane, which happened over a century ago. All of this contributed to a significantly costly storm that has affected a storm battered state throughout the 2020 Atlantic Hurricane Season. 
There are also significant characteristics of hurricane seasons that are extremely important for the year with lots of time between September and November that could develop into severe storms that could do lasting damage within the Atlantic basin. 
Conclusion
Hurricane season can be a significant turning point within a region and will majorly impact people living in that area. Make sure to listen to local officials and other people, keep precious items that hold large amounts of value.