The Britney Spears Conservatorship Nightmare
For more than 13 years, Britney Spears has been under the conservatorship of her father James P. Spears. However, after a long and heavily publicized battle, he decided to step aside on August 12, 2021, giving Britney her life back.  
Britney Spears Mental Health History
Early in 2007 things started to go downhill for Britney Spears and she started showing some signs of erratic behavior which was very concerning. Some of her erratic behavior included her divorce from Kevin Federline, shaving her head, attacking paparazzi, and losing custody of her two sons with Federline. 
In January 2008 she was placed in a mental hospital where she was on 5150 holding. A 5150 holding is when a person can be involuntarily detained for a 72-hour period. Later in the month she went to UCLA medical center to be put on the same hold again. 
On February 1, 2008 her father placed her under a conservatorship. A conservatorship essentially means he has all legal responsibility over her, including personal and financial affairs. The first conservatorship made a lot of sense because obviously she was not in the right state of mind, but after her dad kept extending the conservatorship when she was getting better, people then started to question if it was truly in her best interest. Her dad and her team essentially took control of her whole entire life and she wasn't allowed to do anything. Spears was only allowed to perform if her dad said so and was only allowed to see a handful of people. She was essentially treated like a robot and brainwashed by them. In a normal conservatorship, the person tends to be elderly,  mentally unstable or have physical impairments. None of which Britney has now. This led to the highly publicized #FreeBritney movement. 
What is the #FreeBritney Movement?
The #FreeBritney Movement is an online social movement to get Britney out of her conservatorship. The movement became widely popular in 2019, just after the emergence of allegations involving her time in a psychiatric facility earlier in the same year. Early on in the process of her conservatorship, groups of people would sit outside the courthouse waiting for any news so they could then spread it all over social media. 
Due to all of the Free Britney supporters, her conservatorship got even more national attention in her favor. Many celebrities have been in her favor too, such as her ex-boyfriend Justin Timberlake, Madonna, Khloe Kardashian, Missy Elliot, Miley Cyrus, Rosie O'donnell, and many others. Madonna even took the time to write on her instagram, "Give this woman her life back … Britney, we are coming to get you out of jail." In the months before her  trial, her number of supporters were larger than ever. 
What's been happening since the start of the #FreeBritney Movement? 
After the #FreeBritney movement ramped up, and more court hearings took place. On September 3, 2020, Britney made a move she's never made before: she argued to make her case public. A month later, her lawyer, Samel Ingham, said in court that his client lacks the capacity to sign a declaration expressing her wishes to end the conservatorship, comparing her to a "comatose" person. 
On August 31,2020,  a filing revealed the conservatorship is voluntary, meaning Britney's lawyer can file the paperwork to end it whenever she pleases. But she would need to have an evaluation of whether she has the capacity to make such a decision, which Ingham directly questions.
On November 3, 2020, a new court filing requested the immediate removal of Jamie (her dad) from being co-conservator of Britney's financial affairs. The filing also appointed the Bessemer Trust Company, a wealth management firm, to oversee her finances instead of her father, appointed as conservator of her estate.
On November 10, 2020, her lawyer told Judge Penny that she would not resume her career due to the fear her father caused her. Therefore the only way she would perform again is if her dad stepped down as conservator. 
On February 11, 2021, the court was again reminded how Britney does not want her dad to be the conservator. The hearing was held in Los Angeles Superior Court. Her lawyer pushed Bessemer Trust to have equal decision-making power as Jamie (Her Father). 
March 2, 2021 was a pretty monumental date for Spears as her dad finally declared his wish to see her conservatorship end. Jamie's attorney, Vivian L. Thoreen, told a source, "Jamie, would love nothing more than to see Britney not need a conservatorship. Whether or not there is an end to the conservatorship really depends on Britney. If she wants to end her conservatorship, she can file a petition to end it." This statement didn't settle well for many as people believed they were putting on a show. If Jamie really wanted Britney to not have a conservatorship, he would have ended as soon as he knew she could be without one. But the fact that she has been miserable for years makes people question this statement. 
After months and months of going back and forth Britney was still not allowed to talk in court until June 23, 2021. She addressed the court with an insane account of what she endured while under the conservatorship telling people, "I'm not here to be anyone's slave," which she also alludes to in several of her songs. Her testimony was a staggering 20 minutes long, where she told all, revealing how she was forced to work and was not allowed to get married or have children. In other words, Britney was essentially a prisoner in her own home. According to Spears, she hopes her father and her team go to jail.  She is also planning on suing her family. After her testimony, many people from her team resigned including the Bessemer Trust group, her manager Larry Rudolph of 25 years, and her lawyer of 13 years due to the fact that they knew they were in the wrong. 
July was a very busy month for Spears, she was finally allowed to choose her own lawyer (Mathew Rosengart), the Bipartisan 'Free Britney' Act was introduced, and there was an official request to replace Jamie Spears. In July, things seemed to be moving forward but they took a step back on August 6, when Jamie Spears fired back saying, "there are no grounds whatsoever for my removal." However a couple of days later on August 12, 2021 Jamie decided to step down from his role. His lawyer stated, "Mr. Spears intends to work with the Court and his daughter's new attorney to prepare for an orderly transition to a new conservator." So although Britney will still have a conservator, it will be someone a lot more qualified then her dad and someone who wants what's best for her. How do you feel about the Britney Spears conservatorship debacle?
About the Writer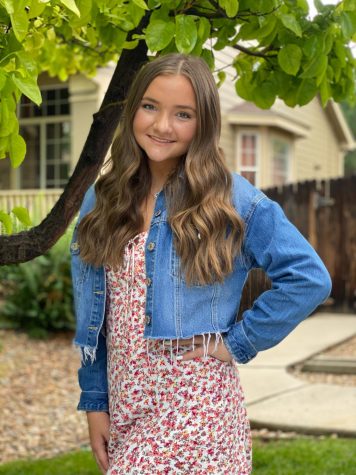 Emily Eigenbrode, Marketing and Social Media Director
Emily is a Junior at Horizon High School. She is addicted to watching The Big Bang Theory and Below Deck. She is on a club volleyball team at Prime Volleyball...