In-Person 5Ks Return to Denver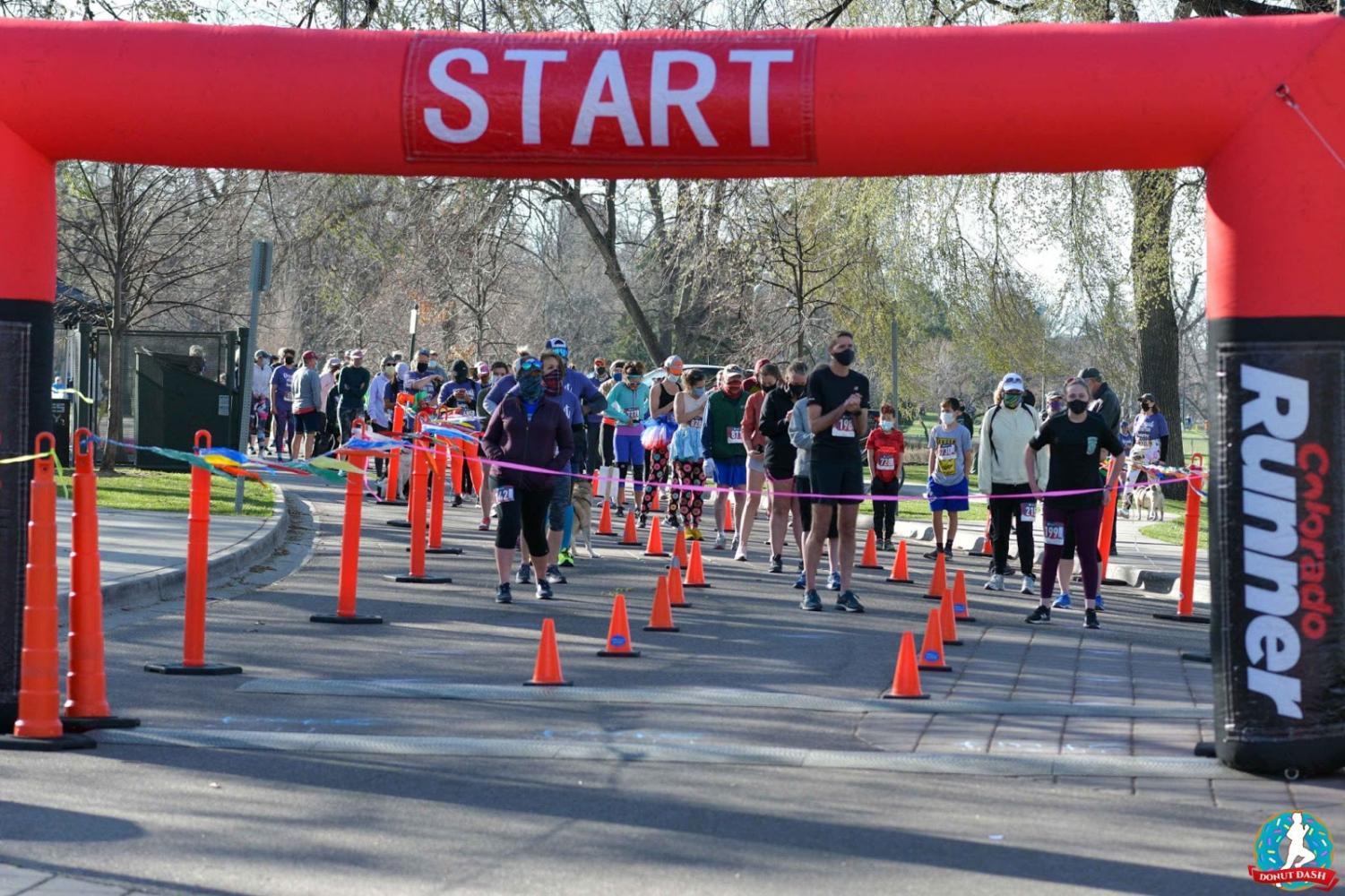 After over a year of strictly virtual events, in-person outdoor gatherings are back. Specifically, 5Ks, which are now up and running (pun intended). Over the span of quarantine, many runners had to get creative when it came to races; they participated in athletic competitions virtually by running on their own and reporting their time. Now, on the other hand, runners can get the thrill of real competition by having people there to race by their side. How are these races allowed to operate while maintaining social distancing protocols?
After recently attending the Donut Dash at Denver's Wash Park, it is evident that these races are trying their best to properly follow CDC and state guidelines. At the starting block, there are cones and spray-painted x's that mark six feet of space between racers. Additionally, a large part of how the races are maintaining small crowds is by starting people in different waves 30 minutes apart. Essentially, when one wave is finishing their race another is starting and so on. 
This allows for the race to still get as much attention and people whilst maintaining safe capacities. Runners are still required to wear masks when they are not physically exercising, which is another change from typical races during years prior. 
Many may be concerned about what races are postponed and which are planned for upcoming months. For that information see the list below:
April 24: Westminster Trail Race
May 2: Cinco K Mayo 5K
May 3: Mother's Day 5K
May 29-31: Boulder Boulder
June 26: Boulder Sunrise Triathlon
August 21: Pajama Jog
October 3: Hot Chocolate Run
October 16-17: Colfax Marathon
*the races listed above are just a few of the races in Colorado
As you may have noticed, some of the races above such as the Colfax Marathon have been postponed from their usual dates during spring to fall. The Boulder Boulder is one of the nation's esteemed 10Ks and is going to take place Memorial Day Weekend. Following COVID guidelines, there are going to be six different racing locations where you can register to run at any available 2 hour time block. You run on a pre-marked course and each race has limited capacity that is expected to sell out. So, if you are considering taking up the challenge, I recommend signing up for the Boulder Boulder soon! What about an event happening in our area? 
Here at Horizon, student government and National Honor Society are organizing a walkathon to raise money for the Leukemia and Lymphoma Society. This charity event is a great way for students to get active and support a good cause! To socially distance, participants are required to sign a COVID waiver/symptom check and there are 3 different hour-long time slots to sign up for. 
All in all, it is pretty great to see successful attempts at getting to exercise and compete together again! Of course, ensuring everyone's safety is the top priority and when that is possible while accommodating in-person races, many people feel united again.