Top Four Must Watch TV Shows as of April 2021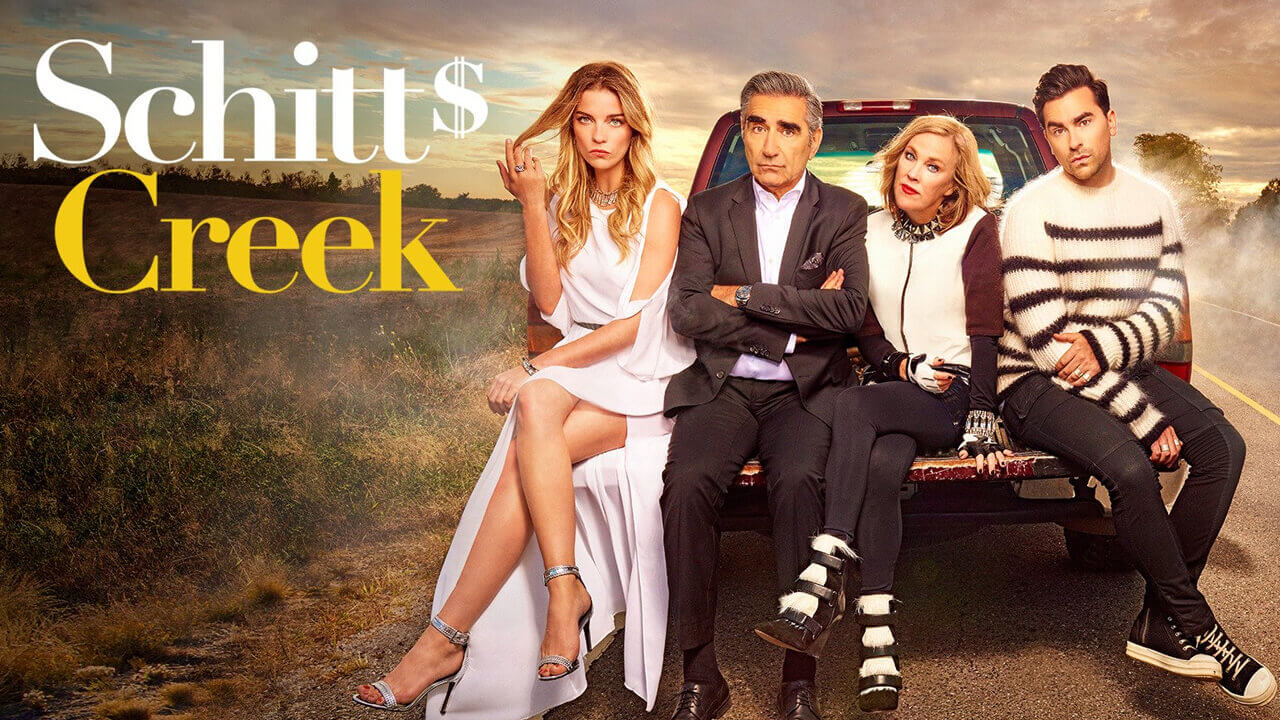 2020 along with 2021 has been a stressful year with the pandemic, perhaps one of the best ways to get rid of your stress is to watch something you enjoy. I know you're probably thinking well I don't know what else to watch, I've already watched everything there is to watch, well hopefully through my list you'll be able to enjoy a new show or two.
Schitts Creek- 
If someone asked you what Schitt's Creek was a couple of years ago you would probably have no idea what they were talking about. Now Schitt's Creek is beloved by millions and more people continue to watch the brilliant show. This sitcom created by father and son Eugene and Dan Levy aired in Canada. Dan pitched his idea to all american cable companies but unfortunately they all passed on the offer until CBS (Canada) picked it up. Schitts Creek has been killing it this award season, coming home with a staggering seven Emmys for its final season. Although the final season has already happened, fans can hope for a new season, even though it probably won't happen.  This Canadian sitcom tells the story of an extremely wealthy family who loses everything when they're defrauded by their business manager. However the parents Moira (Catherine O'Hara) and Johnny Rose (Eugene Levy) remember they bought a small town for their son David Rose (Daniel Levy), as a joke when he was younger. They then move into the town called Schitt's Creek and are forced to live in a Motel, where David and his sister Alexis (Annie Murphy) are forced to start working to help provide for their family. While coming to terms with their new life, the Rose familys meets some of the residents of Schitts Creek including the mayor Roland Schitt (Chris Elliot), his wife Jocelyn (Jenn Robertson), the motel's manager Stevie Budd (Emily Hampshire), Twyla Sands (Sarah Levy), along with many others. This hilarious show is definitely worth watching if you are into comedic type performances. 
Parks and Recreation- 
Parks and Recreation is an American Political satire mockumentary sitcom television series created by Greg Daniels and Micheal Schur. The series aired on NBC from April 9,2009 to February 24, 2015. During its first season the show got very mixed reviews (reviews similar to that of The Office, a sitcom also produced by Daniels and Schur) but after they re-approached the tone and format of the show they got better reviews. Through the show's run they received several awards, such as winning 14 Primetime Emmys. The first season focuses on Leslie Knope (Amy Poehler), the deputy director of the Parks and Recreation Department in the fictional town of Pawnee, Indiana. Nurse Anne Perkins (Rashida Jones) demands the construction pit right next to her house be filled in after her boyfriend Andy Dwyer (Chris Pratt), fell in and broke both legs. Leslie being a very selfless person wants to help everyone even if that means it could get her in trouble. Leslie Promised to turn the pit into a park, despite the resistance from director Ron Sawnson (Nick Offerman). After finally getting approval Leslie and her staff including her assistant Tom Haverford (Aziz Ansari) and intern April Ludgate (Aubrey Plaza), try encouraging community interest in the pit project. After all of the back and forth of the pit project a lot of good relationships form while delivering comedic lines. 
Ozark- 
Switching from comedy television shows to dramas, Ozark is an outstanding series that depicts the life of money launderers. Ozark is an American crime drama created by Bill Dubuque and Mark Williams for Netflix and produced by Media Rights Capital. Jason Bateman is the director, executive producer, and stars in the show. The first season was released on July 21, 2017 and the fourth and final season which is 14 episodes split into two-parts will come out sometime soon.  Ozark has overwhelmingly received positive views from viewers.  The whole premise of the show revolves around a money laundering scheme for a mexican drug cartel that goes wrong. Financial advisor Marty Byrde (Jason Bateman) proposes to make amends by setting up an even larger Laundering operation on the Lake of the Ozarks in Missouri. Marty then relocates his whole entire family: His wife, Wendy Byrde (Laura Linney), their daughter, Charlotte (Sofia Hublitz), and their son, Jonah (Skylar Gaertner). After they arrive then shortly after become involved with local crime, including the Langmore and Snell families, and later the Kansas City Mafia. 
Dead to Me- 
Dead to me is an American Dark Comedy series created by Liz Feldmen and is produced by Feldman, Will Ferrel, and Adam McKay. The series premiered on May 3, 2019 and as of July 2020 the series was renewed for its third and final season. The series has won several awards and also received excellent reviews for its first season on air. Dead to Me is about two friends Jen (Christina Applegate) and Judy (Linda Cardellini) who meet in therapy after the death of their husbands.  Jen is a real estate Agent who lives in California, who is trying to get over the death of her husband but uses anger and resentment to cope. Jens husband died tragically after a hit and run incident, while Judy's husband died of a heart attack. However, Judy is the hit and run driver and her fiance did not indeed die, he broke up with her. Judy tries to hide her secret from Jen as best as she can due to their blossoming friendship, but Jen starts to untangle her husband's death and all of her secrets. Although this show is very serious, it has some hilarious elements and is enjoyable for everyone to watch. 
These four shows are all amazing to watch, and hopefully by reading this article you'll have a new show to binge watch. Even if you have seen all of these shows before, I bet you can agree that they're pretty awesome. Have you seen any of these shows?