The Galaxy Expands
With all these new shows announced how will Disney Manage?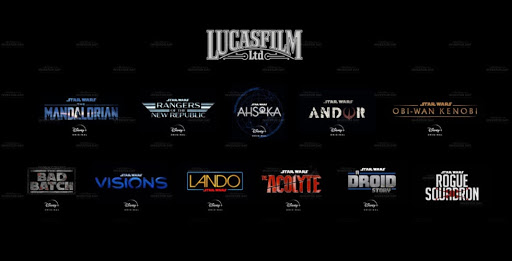 Just when fans thought that new Star Wars content was never going to happen Disney+ released some exciting stuff. On December 10th Disney+ Announced 10 new Star Wars series/movies that they had been working on or will be working on and are set to release during these next few years. Several of these shows fans knew were coming but there were several that fans knew nothing about. The shows that were announced are Star Wars Rangers of the New Republic, Star Wars Visions, Lando, Star Wars A Droid Story, Star Wars Rogue Squadron, Star Wars Ahsoka, Star Wars Andor, Star Wars The Bad Batch, Star Wars Obi-Wan Kenobi, The Mandalorian season 3, and Star Wars The Acolyte. 
Star Wars The Acolyte
This series was officially announced on May 4th but the series' title, logo, and general premise were revealed on December 10th. "The Acolyte" has been described to be a Mystery-Thriller that will be exploring the Shadowy Secrets and Emerging Dark Side Powers in the Final Day of the High Republic Era. This means that we will have a chance at getting a Sith or Dark Side user main character something Star Wars hasn't experienced before. Unfortunately not much more has been said about this show so we will have to wait to see if more is released. 
Star Wars Obi-Wan Kenobi
The Obi-Wan Kenobi show has been rumored for some time now. After the rumors it was announced that Ewan McGregor would be reprising the role of Master Kenobi. It was then announced on the 10th that Hayden Christensen would be returning as Anakin Skywalker. With it confirmed that Anakin will be in the show it gives fans hope of a rematch between Obi-Wan and Anakin. The show will take place in 9 BBY so 10 years after Revenge of the Sith. There will be six episodes in the season each will be about an hour long. There are also rumors that a few other characters will appear. One of the most popular rumors is the return of Commander Cody Obi-Wan's trusted Commander from the Clone Wars. The show is said to be released in spring of 2022. 
The Mandalorian season 3
Not much has been revealed about this new season but there are a few things announced. It is said to release December or 2021 but the exact date is unknown. Unfortunately for fans that is a whole year to wait. It has also been said that Moff Gideon will be in this season which means he will not die in the season finally. Despite what had been said Pedro Pascal will not be leaving the cast of season 3 so we will be seeing him again.
Star Wars Ahsoka
This series will be starring Rosario Dawson who played Ahsoka Tano in the Mandalorian. Dave Filoni has been planning this series for quite some time and he will be directing it. We are not entirely sure what Ahsoka will be doing but many fans are hoping that she will be searching for Grand Admiral Thrawn who's name was dropped in episode 15 of the Mandalorian. Like most of the other shows not a lot has been said about this show but it's likely it will drop sometime in 2022 maybe after The Mandalorian season 3 and the Obi-Wan Kenobi show. 
Star Wars Andor
This show will be starring Cassian Andor who showed up in Rogue One. The show is set five years before the events of Rogue one. Diego Luna will be reprising his role as this rebel. The show is said to be released in 2022 and the first season will have 12 episodes. The show is a spy thriller so it will probably have Andor snooping around and attacking the Empire. 
Star Wars The Bad Batch
After the final season of Clone Wars came to an end Star Wars announced that there will probably be a show mainly about the Bad Batch who were introduced in Clone Wars season 7. On December 10th a teaser trailer was released and fans became super excited because it confirmed that the Bad Batch show was official. The show will be set during the time of the Empire and will have several characters that have been seen before. In the trailer Emperor Palpatine, Grand Moff Tarkin, and Fennec Shand can be seen which implies they will be in the show. The show will be animated and will be done in the style of Star Wars the Clone Wars which fans were super excited about. It is said to be released in 2021 and will be streamed before the third season of The Mandalorian. 
Other shows
Unfortunately not much has been said about the other five series but some things were announced. Star Wars a Droid Story will be a movie and have a new character, most likely a droid, and they will be guided by R2-D2 and C-3PO. Whether it's live action or not hasn't been released. Star Wars Visions will be a series of animated short films celebrating Star Wars through the lens of the world's best anime creators and it is said to be released in 2021. Star Wars Rangers of the New Republic will be a live action show directed by Dave Filoni but unfortunately not much more has been released. The last two series, Lando and Star Wars Rogue Squadron, have had almost nothing released about them so fans will just have to wait and see. 
All of these new Star Wars shows are all a little overwhelming but fans are excited nonetheless. Hopefully with the releasing of these news shows Star Wars fans will grow closer together and more people will have a chance to be introduced to the franchise. These shows are planned out over the next few years and we will have to be patient but until they come out may the force be with you.