You May Have It Wrong
The History of "Peace on Earth"
   The famous Christmas quote "Peace on Earth" is often said many times throughout the frigid month of December. Wishing well for your friends, neighbors, and family. You may see this quote at Disney World on a ride during the holiday season, on a shopping ad for Blackfriday, or on a festive card. However, religious or not, do you understand what this popular saying is really referring to? Well, it is referring to the Messiah, Jesus Christ in the religion of Christianity. 
   As I am sure you know, December 25th is celebrated as Christmas mainly for the birth of Jesus Christ. Christmas was first celebrated by an old list of Roman Bishops, compiled in A. D. 354, these words appear for A.D. 336: "25 Dec.: natus Christus in Betleem Judaea." December 25th, Christ born in Bethlehem, Judea. This day, December 25, 336, is the first recorded celebration of Christmas. From then on, it has been a celebration of the coming of  "peace on earth". 
   As you may have put the pieces together, "peace on earth" is not just a saying to be kind to a stranger on the street, it is a remembrance of Jesus Christ, and how He was born, bringing peace unto the earth. However, it was not peace between people, it was not to stop war, famine, hatred, racism, etc… The peace that is referred to is peace between mankind and God. Jesus came down to provide peace between mankind and their Creator. 
   In the modern world, it is common for people to mistake this promise from God to be "world peace" or peace in families and communities. In Matthew 10:34–36: "Do not think that I have come to bring peace to the earth. I have not come to bring peace, but a sword. For I have come to set a man against his father, and a daughter against her mother, and a daughter-in-law against her mother-in-law. And a person's enemies will be those of his own household." Jesus was warning the disciples about the costs of following Him and of the persecution they would face. However, if we go back to the birth of Christ, the angels appeared to the shepherds in the field and proclaimed, "Glory to God in the highest, and on earth peace among those with whom he is pleased!" (Luke 2:14). In this verse, the angels say "peace among this whom he is please!", Him being God, and peace being a path for mankind to God from Jesus.  
 It seems as though Jesus brought the ultimate feeling of peace, however it may only be felt by those who believe in Him. The eternal peace that Jesus brings will be present within us through the indwelling of the Holy Spirit whom He sends to all who put their faith in Him.
   Jesus came down to break barriers put up by the Old Testament which restricted people from having an intimate relationship with God, allowing us to have a peaceful relationship with Him, as well as peace within our souls. 
   In conclusion, "peace on earth" does not refer to earthly inquiries, but rather the spiritual world which was transformed thousands of years ago. 
   Remember the next time you say "peace on earth", it may be something entirely different. 
   Merry Christmas! 
About the Writer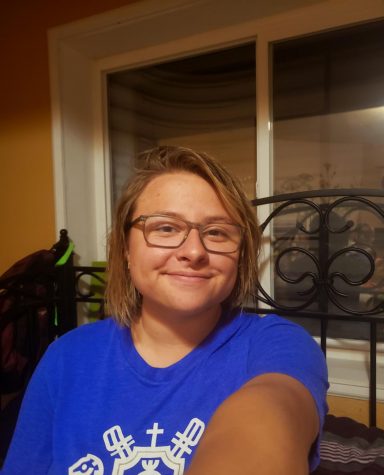 Elizabeth Houlihan, Editor in Chief
Elizabeth is a Sophomore at Horizon High School. She loves to read everything in her free time and to write whenever she can. She is addicted to Grey's...