College Hoops are Back!
About the 2020-2021 Season Amidst a Pandemic
It's the most wonderful time of the year and college basketball is back! After a few draining months and the cancellation of March Madness, college basketball's main attraction, players are back on the courts. Although, there are many appealing differences this season. 
The National College Athletic Association NCAA announced that games first started on November 25th for this season. One of the first games was when Pennsylvania's Villanova matched up against Boston College, which resulted in a win for Nova fans. 
Men's college Basketball is made up of 357 teams, all of which are complying with the COVID-19 public health orders. How do these teams play during a pandemic?
The answer to that is very complicated; many games thus far have been postponed and it is barely into the season. In fact, 50 plus games have been cancelled, postponed, or rescheduled. A large number of teams are trying to balance a regular game schedule all the while avoiding contracting and spreading the virus. What specific measures are college teams taking to ensure the safety of players and staff?
The NCAA has outlined a list of steps taken by teams across the nation in order to keep all players, coaches, and staff as safe as possible. This outline includes various areas of consideration:
Communication 72 hours prior to game regarding entrances/exits, fans, and protocols 

Personnel such as 3 tiers of personnel involved (players, staff, and coaches)

Physical Distancing/PPE: face masks/coverings, hand sanitation, 6 feet distancing

Cleaning/disinfecting: minimal physical interactions and proper cleaning of facilities

Hydration and towels: water bottles labeled for individual use, disposable or clean towels

Team Benches: multiple rows or L-shaped, disinfected moveable chairs, masks

Score tables: 12-feet distance and face masks required for broadcasters

Movement between/in areas: temperature checks and health screenings

Locker rooms: masks on, 6 foot spacing, use showers at hotel

Equipment: own rack of basketballs (3-4 solely for game use) & cleaned during breaks

When on the court: no handshakes/fist bumps, court cleaned at halftime, assigned spaces for media

Regulations & protocols: eliminate hard copies of stat sheets, medical staff guidelines, additional time for cleaning in between games for doubleheaders, grab-and-go catering, crowd noise played live in facility as following NCAA guidelines
Now that the COVID regulations are known, what has the season looked like so far? Locally, the CU Buffs are 2-1, with two games postponed. The recognizable star senior for the Buffs, McKinley Wright IV, averages 22 points per game and 5 assists. Even cooler, he is only 6 feet, which sounds tall, but that is relatively small for the basketball court. CU is playing their fourth game of the season against UNC on the 14th. Currently, the top 3 women's teams are Stanford, Louisville, and UConn. While the top 3 men's teams are Gonzaga, Baylor, and Iowa. NCAA points out, "Notice anything odd about that threesome? Not a national championship in the bunch, and just two Final Four appearances among them in the past 64 years. It might be the year of the virus for everybody, but it's also the year of opportunity for making history for some." This season has opened up new opportunities for underdogs to come through with a W. 
Although this season may have its ups and downs with postponed games, at least there is a season! Keep an eye out for small tournaments and changes in the top 25 to see what happens next. 
About the Writer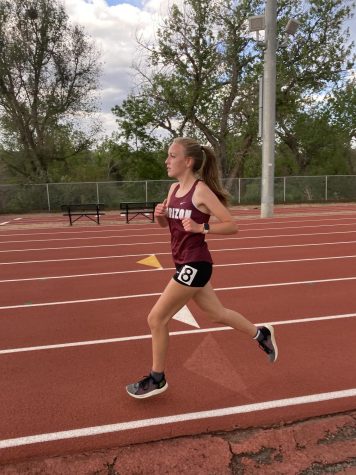 Lizzy Crawford, Editor in Chief
Lizzy is a junior at Horizon High School. She finds enjoyment through skiing in the winter and running cross country at Horizon. She is a devoted sports...