Social Media: An Insult to Democracy
Twitter and Facebook Censoring Political Opinions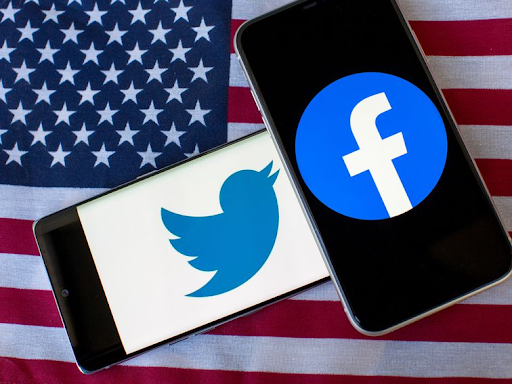 This past 2020 Presidential Election between Joe Biden (Democrat) and Donald Trump (Republican) was intense. Joe Biden took the win with 290 electoral votes, leaving Trump with 214, however, some might ask,  'what contributed to this win?'. Well, it seems Facebook and Twitter may have helped this win take place. 
     Facebook and Twitter went to great lengths on October 15, 2020 to block The New York Post story that was released, which provided negative information on future president Biden, saying that he may have exploited his vice presidency to financially benefit his son, Hunter Biden. The two social media platforms stated that the post  "include personal and private information — like email addresses and phone numbers — which violate our rules.". They reiterated the baseless claim that the story relied on hacked material, but added that "commentary on or discussion about hacked materials, such as articles that cover them but do not include or link to the materials themselves, aren't a violation of this policy."
Twitter users who clicked on the article were directed to a page and were shown an alert page, saying the link was unsafe and violated their policies. 
US Sen. Josh Hawley (R-Mo.) sent a letter to Facebook's CEO Mark Zuckerberg, and Twitter CEO Jack Dorsey, demanding information on why they chose to censor the article on the matter. Texas Sen. Ted Cruz sent a missive of his own to Dorsey, blasting Twitter's decision to block users from sharing the story "quite hypocritical given its willingness to allow users to share less well-sourced reporting critical of other candidates for public office.". 
Senator Cruz got involved with the situation and stated "This can only be seen as an obvious and transparent attempt by Twitter to influence the upcoming presidential election,"
Rep. Jim Jordan, of Ohio, also spoke out, sending a letter to Zuckerberg, saying the platform's actions "raises questions about Facebook's commitment to free speech and free and fair elections."
Zuckerberg and Dorsey were asked if any political figures asked them to suppress the story, they responded with  "political preferences don't influence decisions to suppress content.". 
Andrew Bates, spokesman for the Biden campaign, responded to the New York Post's story in a statement last week, saying multiple press and congressional investigations concluded that the elder Biden "engaged in no wrongdoing."
Bates claimed the Post failed to ask the Biden campaign about key parts of the story, including the fact that former New York Mayor Rudy Giuliani allegedly obtained the materials used in the article. Biden's official schedules show no meeting with Ukrainian executives as alleged by the Post had taken place, Bates said.
What these tech companies have been doing is at best a contribution in kind to the Biden campaign. And at worse, it is blatant election meddling that's far more extensive than what we saw Russia do in 2016.
In order for America's democracy to have a free election again, the big tech issues must be stopped. 
However, isn't that the point of democracy? To have the freedom to expose those who need exposing without their consent? 
No matter the answer, it is clear that Facebook and Twitter have brought an insulting name to American democracy.