Fire Update:
Have Colorado Fires Finally Calmed Down?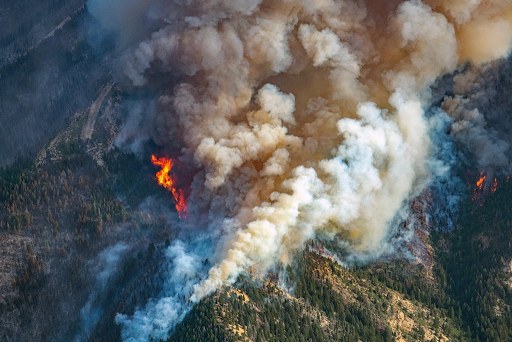 Fires that have been taking over Colorado the past few months are at their lowest peaks thanks to the promptly now chilly time the state has presented. All the fires are at least now efficiently fifty percent under control, five in which are a hundred percent controlled. Fires that remain in conflict are as followed:
Williams Fork Fire
Located in Grand County's forest, Arapaho National, this fire has burned 14,833 acres. Since the start of its uproar in August, it has grown

1 and 561 acres

per day. It is a close 98% contained as of November 10, 2020. 
Cameron Peak Fire
Burning 208,913 Acres, this fire placed in the Arapaho and Roosevelt National Forest had caused Larimer County  to evacuate. Being 92% contained, it continues to burn, yet, slowed by the weather. 
Middle Fork Fire
In Steamboat Springs, this fire is at a low

60% containment.

Gratefully, it has minor activity and has only burned 20,433 acres showing no intense growth over this past weekend. It has been estimated to be completely controlled by

mid-December.

 
Grizzly Creek Fire
In Glenwood springs, the Grizzly Creek Fire has burned close to the Middle Fork Fire at 32,631 acres. The only variance being it is 91% contained, updated Nov. 10 2020. This fire being a type four, has been no problem for firemen to control and has presented a decrease itself. 
Concerns that had been taken into account are the amount of evacuations that are still being placed among the counties. The Cameron Peak fire has been known to damage many homes and structures throughout its journey. Although, recently the evacuation orders have been lifted because of the high containment. Boulder also acknowledged the East Troublesome Fire, which is not mentioned above. Some have experienced these evacuations up in the area. 
Colorado.gov suggests that if there are heavy amounts of smoke near your area due to wind transportation it, stay indoors. This smoke produced by the burning is harmful and unhealthy for lungs. It had been known to affect those with heart disease, respiratory issues, children, and the elderly. If smoke is visible within five miles, remain inside. It is to be suggested that for the time being, checking the air quality index is vital before obtaining outdoor activities. 
For this wildfire outburst occurring, there are many considerations that sound be taken in by those within the fire areas. The most evident being to keep all fires created during this time to the bare minimum and keep it attendant. If creating a fire is necessary, do not use live tree branches, for it feeds the fire too much. If you are done with the fire, using water is necessary until you can handle the embers that the fire provides. Other factors to take into consideration are to watch for other branches close by that won't interfere with the fire you create. Also, check with the rules and regulations provided by the state parks if you are eager to build a fire.