Is CU Boulder Really Taking the Steps They Need to be with the Coronavirus?
The Re-opening of CU Boulder
Little did students of CU Boulder know they would come back to campus for only a few short weeks before they would have to shut down again. Although many people abided by the CDC guidelines for social distancing and wearing masks, many people did not. Several students went straight to partying and attending large gatherings. Boulder has the third-highest amount of cumulative COVID-19 cases in the PAC-12. Colorado cases are spiking and CU Boulder joins many universities and colleges in putting a freeze on in-person learning. 
Although the exact number of positive cases is unknown it is presumed there are 757 positive cases. Because it's estimated that 757 have tested positive, that led to many others being isolated in a quarantine unit, and others were prompted to do school from home for the next two weeks. It is said that one fifth of Boulder County's cases have come from college kids.
In September of 2020, the number of COVID-19 cases were rising and they were forced into going remote for at least two weeks. Due to the pandemic, schools have cancelled homecoming, suspended kids for not following the guidelines, and have forbidden non-students from coming to the campus. Although many universities in other states have had their homecomings, Colorado has unfortunately not been able to do that due to the spike in cases recently. 
CU is also not the only college to put a hold on in-person classes. Other colleges that have gone to online learning include the University of Notre Dame, University of Wisconsin, along with many more.  It's found that most of the cases arising from colleges and universities have come from sororities and fraternities. So far the highest infected school is the University of Arizona, but Boulder isn't that far from being the highest. It hasn't just been the academic side of school that has been affected, it's also been the school's sports programs. 
Pac-12 schools inland from the coast were hit especially hard. So far three of the pac-12 schools have had some sort of closure, some have not cancelled classes.
At first it was unknown whether the athletes would go back to playing sports but now most of the sports can rest easy. Football (whose season was originally supposed to start early fall) has now been postponed to November.  They will play a seven game schedule. As of now the coaching staff has had a limited practice schedule which were mainly individual drills, and some throwing but they weren't allowed to go past 12 hours of practice due to the NCAA rules. Local officials have also signed off on women's and men's basketball, which will begin on November 25. Since basketball and football got the go ahead any player may opt out of playing if they feel uncomfortable without a penalty on their scholarship. As of now no one has opted out of playing. In addition, there will be no school bands or spirit squads permitted. 
As of October 8, the numbers in Boulder have significantly dropped from the rise in September. As of now students of CU are going back to the originally planned hybrid model that was put in place at the beginning of the school year. Some students are planning to go back to their classrooms early due to their rigorous schedule. The colleges have allowed certain classes to go back earlier than the originally planned October 14. 
Many of the buildings are opening like the libraries and the writing center. Other things like the recreation center and the IT tech center are also open but require an appointment to be let in. Loaner laptops and free WiFi is also accessible to students in need. 
Students are also now required to participate in weekly testing. Since many of the students have been partying and not following the guidelines, Boulder County Health has prohibited gatherings of more than two people among 18 to 22 years old in the City of Boulder. You also have to wear a mask when you leave your room or apartment, and you are prohibited from having visitors in your room. 
Students are allowed to leave the residence halls and go back home for the rest of the semester or the academic school year. However,  it is strongly recommended that you do not go home so the virus doesn't spread.  Students may only leave if they are not in isolation or in quarantine. Students who have been in contact with or have COVID have been placed into isolation units in their building. 
Many people that were interviewed said that it seemed like a normal weekend despite what is going on. Senior Miles Levin, went around the CU campus where he saw many upperclassmen and freshman congregating, meeting up with friends, and headed to parties. He later snapped a picture of over 100 people out partying. From Thursday to Sunday, Boulder police responded to 121 noise complaints despite what was happening in the world. 
A student at CU, Talya de Paz, was interviewed, and she talked a lot about how many students were not following the rules.
"Many people did whatever they wanted and went to frat parties and the hill," stated de Paz. Many people were also seen not wearing masks and not abiding by the guidelines.
But she did notice that quite a few people were wearing masks on campus. It's just off campus where it was the problem. A new policy that was put into place states that students must wear masks at all times on campus, whether outside or inside on campus you must wear a mask. de Paz, like many students, is used to it now and some don't want to go back.
She had many different thoughts about going back to school, "I'm used to it, so I feel like going back would be weird, so I hope next semester we can come back. But it doesn't feel necessary for me to go on campus when I can do all of my classes online." 
Although it seems that CU is doing their best at trying to contain the virus on campus,  it seems there is still more they can do. Students must wear masks inside and outside of school, and maintain social distancing in order to go back to school. We are learning new things everyday about this virus and things continue to change dramatically. Who knows, maybe next week they'll be back to a full remote schedule. 
About the Writer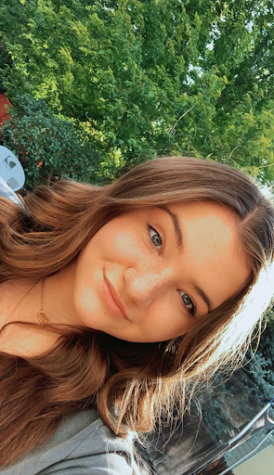 Emily Eigenbrode,
Emily is a Sophomore at Horizon High School. She is addicted to watching The Big Bang Theory and The Office. She is on a club volleyball team at Prime...