What an Ending!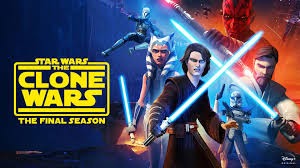 A show brought back after six years of being off air and boy, did it end well. It started streaming on Disney+ on February 21st of this year. In the season we were given 12 episodes split up in three arcs. Every Friday star wars fans received a new piece of the story. The show first began August 10th, 2008 and ended on May 4th, 2020. The Revenge of the Sith book says, "Though this is the end of the age of heroes, it has saved its best for last." That may have been meant for Revenge of the Sith but I think it also describes the ending of Clone Wars perfectly. 
   The first arc focused mainly on the clone troopers. We get to see some old and more well known characters such as Anakin Skywalker, Commander Cody, and Captain Rex but we are also introduced to some new characters called the Bad Batch. They showed up when the Republic asked for help. The Bad Batch, Rex, Cody, and two other clones go and start looking for why the separatists know the republic battle tactics. What they found was quite shocking and you will need to watch the show to find out what. We also see Anakin and Padme's relationship and that Rex and Obi-Wan are both aware of it. This arc focuses mainly on the clone troopers and shows how much their individuality has expanded. 
   The second , we are reintroduced to crowd favorite Ahsoka Tano. We last saw her at the end of Season five when she walked away from the Jedi. We see her struggling with her bike and she crash landed. She meets up with Trace Martez, a young mechanic. Ahsoka then meets Trace's older sister Rafa Martez who Ahsoka doesn't completely see eye to eye with. Ahsoka then accompanies the Martez sisters on a job but they end up getting captured. Ahsoka then learns about their view on the Jedi and she lies to them about who she used to be. Eventually they get out of the mess after Ahsoka figures out shocking news. She is then met by a character that has shown up before but not exactly on the same side.  
    The third and final arc is the tragedy of the season and happens at the same time as Revenge of the Sith. It starts with Anakin and Obi-Wan fighting in the outer rim sieges when they get contacted. They go to see what was so important and Anakin is reunited with Ahsoka, his old padawan. Ahsoka brushes him off and pleads for help to stop Maul. Unfortunately they didn't agree because they had to rush off to save the chancellor. Ahsoka and Rex are forced to go and stop Maul themselves. We learn that Dooku was killed and we all feared what was going to happen next. After Maul is captured Ahsoka heads back to Coruscant. Unfortunately as all star wars fans feared Order 66 was given. In order to see what happens you would need to go watch the show but it was heart wrenching. 
   Dave Filoni, the creator of the show, said, in regards to season 7, "If you grew up enjoying this part of the saga, Season 7 is the proper ending for it. It's nice that we can deliver a proper ending for this, and even 15 years later, doing this series is still a tremendous amount of fun." All star wars fans can agree that this was the ending we were all wanting. We all got to see many characters we love and were introduced to characters for us to love. Even though this was the end of a wonderful show it has certainly ended the best way possible.