Trump Vs. Biden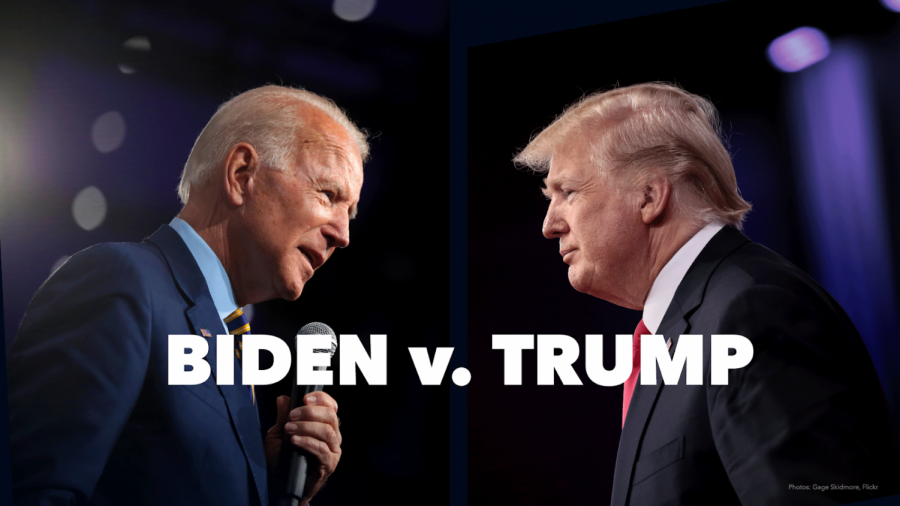 It is safe to say that 2020 has brought nothing but inconvenient troubles, and movements in our hearts. Some would say this is the perfect year for an election, others would disagree. However, no matter the opinion on the matter, the 2020 election is happening on November 3, 2020 and Americans need to be ready.  
   America's two potential Presidents are Donald J. Trump (Republican party) and Joe Biden (Democratic party). Both of these American individuals come with their own sets of pros and cons. Both could improve America in different ways, and both could easily destroy it within seconds. 
   Joe Biden has many plans for America, his biggest ideas focusing on equality, healthcare and high quality education. While Donald Trump focuses more so on America's economy, our veterans, and relations with other nations. These two competitors both have different things to bring to the table. 
   Currently, Biden is ahead of Trump in the 2020 Election polls. Biden is currently in lead with a national 49%, and Trump behind with a 42%. Biden has a clear advantage over Trump due to him being more famous among younger individuals. According to the poll conducted by The Economist/YouGov, Bidens majority of voters will range within 18-29 years old. This age group will make up more than 51% of his followers. However, Trump has only won 26% of that same age bracket.
 When it comes to states, Biden has set his place in stone. Biden has beat Trump in states that Trump beat Hillary Clinton in the 2016 election. For example: Biden has tackled Trump in Michigan, leading with 5.2 points, where as in 2016, Trump beat Clinton by .2. One other major gap is Wisconsin. Biden leads with a 6.6 point advantage over Trump where as in 2016, Trump beat Clinton by .8. Overall, Biden is currently leading in 13 out of the 16 states reported, with Trump in the lead of two, and then tied on one. 
   With these statistics, it may seem as though Biden may be the number one choice for Americans. However, during the 2016 election, Hillary Clinton led in the polls throughout the election and also won key states, yet, Trump still took the win. 
   The first Presidential debate will air on September 29, 2020, where Trump and Biden will go head to head on current issues in America. During this time, polls will sky rocket and millions of Americans will be influenced by our future President. 
   The 2020 presidential election will be the most important one yet, being influenced by Coronavirus, Black Lives Matter, and many more movements, it's nothing short of a blood pumping thought. 
   In the end, who will have what it takes?