A New Era of Learning:
How is the world being affected today?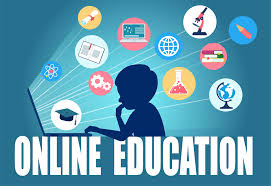 Charlize Bennett
September 14, 2020
Imagine going from doing work at school to at home. Unfortunately, you don't have to because you most likely are already doing so due to Covid-19. This virus isn't only affecting stores, but your education. Sources are saying there are over one billion students out of classrooms and now having to figure it out at school at home. Multiple students from Horizon High School have filled out a form telling their views on doing school over a computer. The purpose of this poll was to provide more points of view within students and engage with their feelings.
Well-being and Benefits
Students that are now completing their school online have the benefit of completing their work at their own pace. A question asked on the poll was how is online school affecting you as a student. One of the students that completed the survey replied by saying, "It is teaching me how to manage my time and space better." Students can improve their self motivation, along with their time management. Unlike staying at school all day, young adults are at home or wherever they go to get their work done. This allows for students to stay more motivated while doing their work, instead of having the feeling of coming home to a pile of work to complete for tomorrow. Young adults are having the responsibility and are being trusted to complete their work given which is preparing them for the workforce. 
An obvious benefit from doing school online these days is being spaced out and not being around kids who may have been exposed to the virus. A student from Horizon High School answered one of the questions by responding, "I want to be safe for my family who are at risk and there are too many kids to watch at school to make sure everyone is doing the right thing and being safe."  
The Downfalls and Obstacles
When reviewing the survey, many kids repeated the same issue they had regarding online learning. 93.8% of students said they rather go back to face-to-face learning because online is creating more problems for them and "it's extremely frustrating." Many factors are being affected regarding sleep, grades, and just the overall experience. 
Jay-len McLean was interviewed by The Washington Post and he expressed his feelings by stating, "I feel like I'm not learning anything because all I'm being asked to do is go onto Google Classroom, look at the assignments and finish them by a certain due date. So it's like I'm teaching myself rather than being taught." Online school is not giving students the learning experiences and opportunities they need compared to going inside the school building, sitting at a desk, and listening to a teacher face-to-face. Being isolated from all the peers students are used to seeing from a day to day basis, to not seeing them at all has decreased their social lives. Many students have lost touch friends they may have only talked to at school
. 
Another problem that seems to have a recurring issue is technology difficulties. 90% of the students that completed the survey claimed that being in school was much easier than e-learning. Troubles that may occur at home may be things such as Wifi connection, old computers that are being put to too much work, not being able to log in, etc. It is difficult to get the best connection or the best working computer if you are from a lower social class, especially if your school can't provide anything for you. There are schools out there, like Adams 12 schools, that provide a service for students to go into 'learning pods' if their needs can not be met at home. 
Sympathy for Students
In the poll, there was a question asked what school group they think is being most impacted during this time period. 50% of students said nine-twelfth grade, 37.5% said kindergarten-fifth graders, 6.3% said college and the rest said pre-kindergarten. To evaluate, the majority of the students said nine-twelfth grade because they have a lot to learn before they graduate and it's awkward to do so when you have to get through the day by yourself. Younger students may feel the same way, confused on what is happening. Online learning is tricky to everyone, regardless of age because staring at a screen all day is not an ideal day anyone wants to spend. 
Depending who you are as a student, you could be affected in completely different ways. Looking at different points of views allows for a better understanding on how kids are feeling during this time. Some are well organized and can figure out their way through school, but the vast majority doesn't see this technology as a benefit for anyone. It may be tough to help and there isn't much we can do as a society to solve the problems of online school. Supporting each other is all we can give, and looking at others perspectives to get a better stand point.