A Country in Flames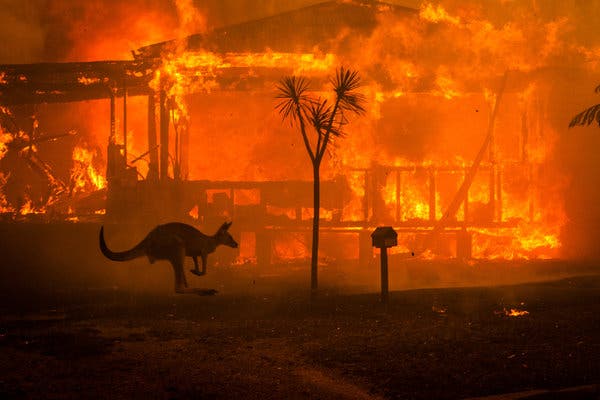 What started as and apparent natural tragedy caused by bad weather conditions like dry grasslands and heat  is now said to be deliberately started bushfires. Australia has a notorious dry season and there can be between 52,000 and 54,000 bushfires in Australia every year.
Dr. Paul Reed, co-director of Australia's Center for Research and Bushfire and Arson, says 13% of those are started deliberately and 37% are left as suspicious. That means 31,000 Australian bushfires are either arson or suspected arson every single year. Half of the bush fires are started by people under the age of 21,  usually children "playing" with fire and losing control. Others may be truly malicious arsonists who are developing towards full-blown psychopathy. Since September 2019, at least 27,000,000 acres of Australia has been burned in one of the countries worst fire seasons of record. These fires have killed at least 29 people and have destroyed some 2500 homes. 
Australia's biggest contributor of relief has been the Red Cross Foundation. The Red Cross says it has helped more than 18,600 people affected by these wildfires and heat wave since July. The teams are focusing on supporting Australians as they evacuate their homes, centers, and work buildings and providing psychological first aid to help the trauma of the victims of the fires. Along with the Australian Red Cross, the Australian Salvation Army is donating to the victims of the fires and is accepting donations of every kind.
What can you do to help? The easiest way to help without being in Australia is sending in online donations to the Red Cross or Salvation Army as well as many other nonprofit organizations that are accepting donations. You could also donate to the Salvation Army by sending anything that could help the families who have lost everything like blankets, clothes, shoes, toys, books ect. Sending care packages and supporting your troops while they are going out to help the Australians in their time of need is another way to support this cause.
As of last week, Australia has received some much needed rain across the country and it seems as if the fire's rampage has reached its end. Forecasts predict that rain will continue to pour over the weekend, eventually reaching areas of the country previously affected by the fires.
These tragic fires, whether natural or deliberate, have shown the world many tragedies that can happen in such a short amount of time and how many people it can affect. It has shown us to be grateful for what we have and to help others in need because being in a team is always easier than standing alone.