The best nuggets, tenders, and strips around town
Your 2020 chicken nugget review.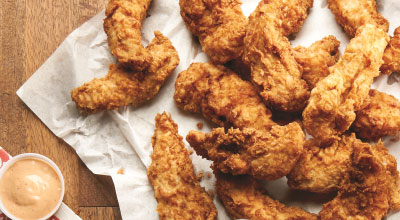 Ahh chicken, it can be prepared in so many different ways. Fried, soft, hard, stripped, winged, spicy, baked, boiled, or nugget-ed. The options are truly endless. But nuggets, strips, and tenders are arguably the best way to enjoy a piece of our feathered friends. 
If you're in the market for some good chicken, here are my ratings of the Top 5 chicken nuggets available based on size, taste, crunch, and sauce options. 
5.Tyson Frozen Dino Nuggets 
Dino nuggets, need I say more? Everyone knows them and everyone loves them. But why? Is it just because we were fed them as a child and it was apart of your 'childhood'? No, I will not stand for this. The flavor is not fresh nor is it a natural flavor. Not to mention you have to preheat your oven, cook them, let them cool, and then you can finally eat them. You also have to eat them with a sauce, it is non negotiable. Without sauce it is just cardboard. 
4. McDonald's
Although a classic, not as good as they can be. Let's start off with the good, the sauces. All of their sauces are extravagant. Infused with flavor and cool packages the sauces are a 10/10. But … I found as I am there about 3 times a month, the crunch isn't consistent. Some nuggets have a more of a noticeable crisp thick batter to them, whereas some have almost no batter and no crunch. Not to mention the crispier ones crumb rate is ridiculous. You can take one bite and crumbs everywhere. 
3. Chick-Fil-A
This might get a lot of hate but hear me out. Chick-Fil-A nuggets are not as good as everyone says. Let's first start off with the size and crunch. It is not consistent, neither of them are, some nuggets are very big with no batter or some are very small with more batter than chicken. Not to mention they also aren't inclusive to everyone. Chick-Fil-A uses peanut oil to fry their chicken which is leaving our our nut-less friends out which is never nice. But why did I put them in 3rd place you might ask? Well it is simple. The flavor. The flavor of Chick-Fil-A nuggets have some of the best flavors and don't really require sauces for your taste buds to love them, but if you are a sauce guy there are plenty of delicious options for you.
2. Wendy's
Always good. Crunch is consistent. Size is consistent. And they always taste good. What more could you ask for in a nuggets? Not to mention they come in a spicy version. The only bad thing about Wendy's nuggets is that they come out a little too hot sometimes and the packaging for the sauce is a bit more on the tacky side making it difficult to pop tear open in a hurry.
1. Raising Cane's
Where do I begin? Everything about Cane's chicken is perfect. The chick… ALWAYS fresh, ALWAYS warm, ALWAYS juicy, ALWAYS flawless. When I first experiences Cane's mouth-watering chicken I was a little upset they had one sauce option 'Canes Sauce', as it takes some getting used to. But, once you've had it 2 or 3 times you will find yourself daydreaming about not only the sauce but also the chicken. And the size, so big and filling.  TEN OUT OF TEN!
I hope this guide to chicken helps you out the next time your tummy is growling and you need to know what chicken is the chicken for you.