After 16 Years, She Is Being Deported
The Maria Isabel Bueso Story
September 21, 2019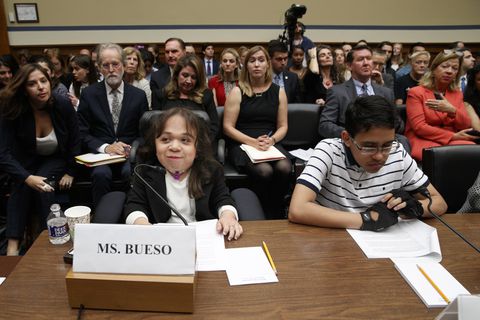 https://www.washingtonpost.com/opinions/2019/09/13/immigrants-help-us-find-treatments-rare-diseases-we-owe-them-that/
Born in Guatemala, Maria Isabel Bueso was diagnosed with a rare genetic disfiguring medical disease called Mucopolysaccharidosis VI, also known as MPS 6 as a child. However, at the age of 7, Maria was invited to the US to take part in a life saving medical trial that was not offered in her home country. 
The trial was short on participants, so it made her a good candidate, and thanks to her participation, it let the Food and Drug Administration create a treatment that has increased the survival rate for the rare disease by more than a decade. 
Maria, who is now 24, has become a role model to those who suffer with the same condition. She has been awarded for her advocacy and for her support toward those with her disease, along with confronting lawmakers in Washington and Sacramento in order to spread awareness.
Recently, Maria received a letter from the United States Government saying she has 33 days to leave the country. Her doctor, lawyer and mother all describe this as a "death sentence". 
Without public announcement, the United States Citizenship and Immigrant Service has eliminated a "deferred action" program that was able to save immigrants like Maria who were in the country for medical conditions getting treatment. 
"I have been feeling super scared and overwhelmed. The treatment that I receive keeps me alive." said Maria. 
Over the last two years, major changes in the immigration policies have scored with little information sent out to federal workers. ICE officials state that they have heard very little of the new policy.
Maria and hundreds of other immigrants have sent in deferred action applications trying to stay in the country. Many received a letter back stating that in order to stay in the country for medical treatment, you must be active duty in the military. 
"Stopping this therapy will dramatically shorten her life span," said Dr. Harmatz, a pediatric gastroenterologist that has stayed up to date with Maria's condition from day one of her medical treatment. 
Maria wasn't expected to live past being an adolescent, but now doctors believe she may have a chance to live to 30. 
Doctors and immigrant workers are scrambling to figure out when this new policy came into view and how they missed it.
Guatemala just simply does not have the resources that Maria and her family need in order for her to continue living. If Maria leaves the United States, it will be her death sentence. 
On September 11th, Maria and a few other sick immigrants confronted the Trump administration in Washington. It is unknown how this affected the Trump administration, but for the sake of Maria, only time can tell.