Squared Up
Horizon took a group of students to the Front Range Regional Math Competition and killed it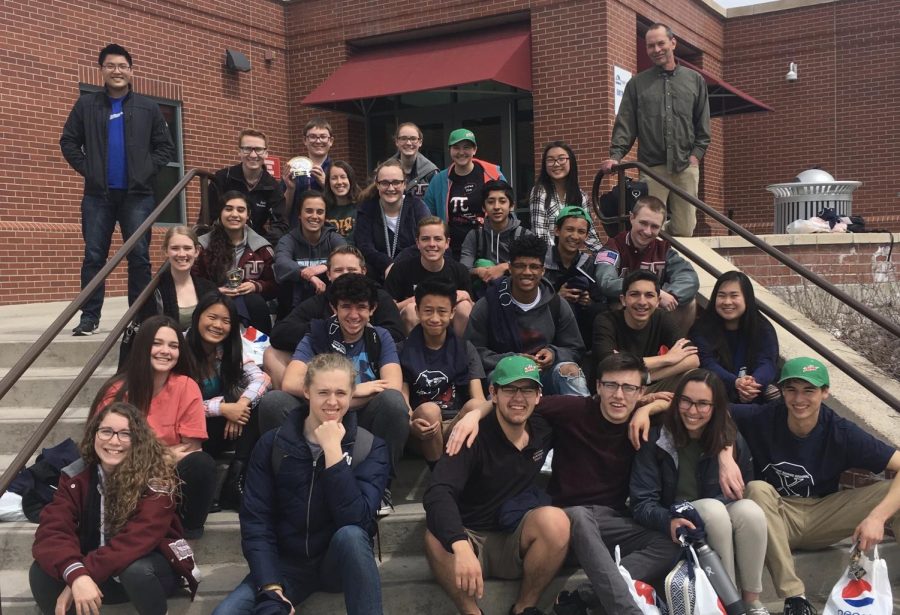 Joshua Palmer, News Editor
May 8, 2019
On April 5, Horizon was one of five schools represented at the 10th Annual Front Range Community College regional math competition. At the end of the competition, the Horizon team walked away with nine medalists.
"Seeing how [students] strive to solve the problems," was math teacher Julie Hewitt's response to what her favorite part of the competition was.
The competition began with teams of four receiving 40 minutes to complete 10 challenging problems, which would later be used to determine the seeds for the single-elimination team tournament. Following the team problems, students would take individual tests consisting of questions about geometry and algebra.
"The most fun part of the competition was the team [competition] … it was fun to do the questions together, and the questions were a lot more fun to solve than in the individual round," says sophomore Emily Landingham.
The team tournament occurred after lunch and one of Horizon's all-sophomore teams; named the Calcoholics began in first seed of 10. Another team, called 2π Mike and Ike, was sixth seed going into the team tournament and comprised of juniors; Jacob VanArsdale, Claire Lundstrom, Bridget Ediger, and Makeena Brannon. At the end of the competition, the Calcoholics, comprised of Emily Landingham, Peyton Bruno, Vivian Hua, and Joshua Palmer, won the team tournament. This was the second year in a row that Horizon won the tournament.
Sophomore Adriana Espinoza enjoyed "sitting in the audience and cheering [for] the teams that [advanced] and just solving the problem in your seat as they were also solving them. It kind of brought everyone together."
Rewards for the solo competition were organized by individual grade levels, as the top three competitors in each grade received rewards. Horizon swept the sophomore competition, as David Hunter, Adriana Espinoza, and Delaney Osborn won third, second, and first place respectively. Jacob VanArsdale won third place in the junior competition, and Nate Collins won third place in the senior competition.
Osborn laughed, "It was a lot of fun to be able to hang out and just answer some math questions."
Horizon had a great showing at the event, and can't wait to compete next year.
"It was such a good experience, and this time I'm just going to actually study a bit of math before I go on to see what I can do with that, but I really like it so I'm planning on coming back!" Espinoza said.