Owning the Mat
Champions are made at practice. Take a look into the hard work that makes the Horizon wrestlers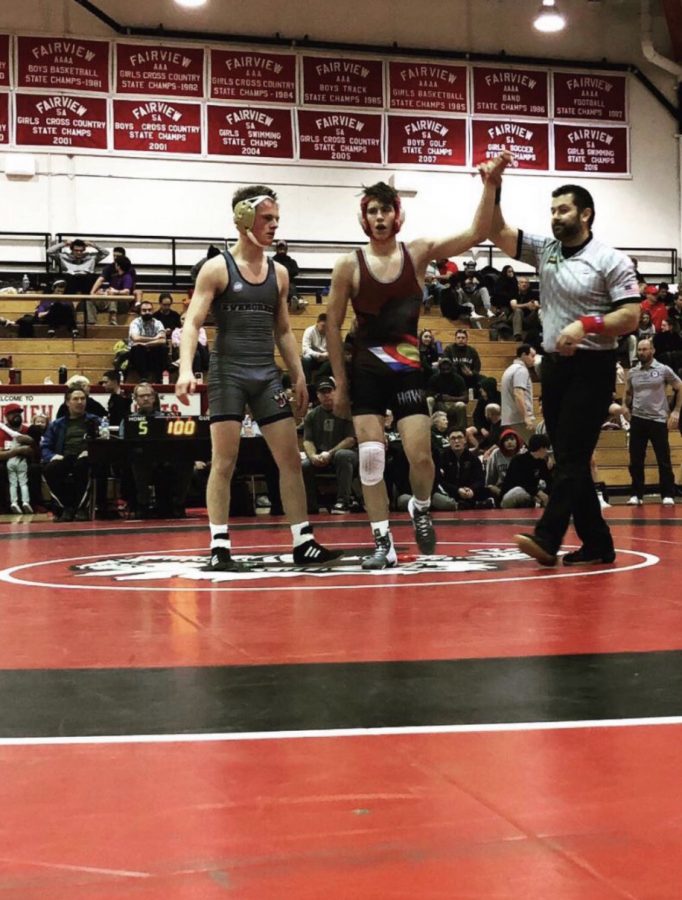 Tori Heath, Entertainment Editor
January 29, 2019
When winter comes around, it is the start of the grind for athletes– the womens' and mens' basketball players, the female swimming team, and the wrestlers. All these sports require full intensity for a prolonged amount of time, without rest.
The commitment and practice that wrestlers put in tend to go pretty unnoticed during this time. However,the work they put in is just as grueling– if not, maybe more– than the the other winter sports here at Horizon High School.
Although challenges occur in every sport, few high school seasons deal with the mental and physical strain as much as wrestling. Not only do wrestling practices often push the grapplers to the point of pure exhaustion, but, unlike the other athletics, wrestling requires its participants to be at or under a certain weight in order to compete. This often results in most of the competitors needing to maintain a strict, low calorie diet, as well as sometimes enduring long periods of fasting (minimal to no food or liquid intake).
Empty stomachs, sore muscles, and bruised egos are a commonplace in the sport. The hard work of wrestlers goes unappreciated during the winter season. All of the conditioning prepares these athletes for a six minute match. Success does not come easy in this sport, and it is made in practice.
Wrestling is not like most sports: athletes have to stay in their weight class, go to weight-lifting, attend practices, show up to the matches, and repeat. It's a 24/7 repetition throughout the duration of the winter. Wrestlers have to be both strong and explosive, but must also be durable and have cardio for days.
Jacob Loomis, junior wrestler, states that  wrestling goes until 5:15 everyday after school. On top of this, they  have tournaments on Saturdays with duals during the week, along with additional workouts.
"It's time consuming, but extremely worth it!" says Loomis.
The sad thing is that not many recognize wrestling as a true sport. Based off of "The Odyssey", wrestling has been so unrecognized by the sports world that many claim it's not a sport at all– and was so bad that it was almost discontinued from the Olympic games. In the end it was saved, but it was close to being beat by ping pong.
"I would say a lot of people overlook wrestling. It's an extremely tough sport, and not many kids can do it," Loomis explained. He also went on to convey that people overlook it because they think that it is weird having two guys wrestle each other– "that's what I hear all the time."
Loomis highly encourages students to come and watch not only him, but the rest of the wrestling squad at their last dual on January 31st, at 6:30 pm, at Horizon High School. "If you come and watch, it will change your view on wrestling."