The Spirit of Ultimate Frisbee
Hang on for a minute...we're trying to find some more stories you might like.
Ultimate Frisbee Club at Horizon High School has remarkable achievements. Yet, it seems that little is known about them, while other sports are remembered by the whole school even for their smallest feats.
The school year of 2017-2018 was the first year Ultimate Frisbee Club played competitively. It was also the first year that they won an award: the Spirit Award. This might not seem like such a great achievement to some, but in Ultimate Frisbee, having a positive spirit is a key factor in playing.
It is taken extremely seriously since this sport "relies on the players to self-officiate," Horizon teacher Steve Windness, coach, states. "They have to be completely in charge of their emotions."
There's even a Captain Spirit in the sport because having spirit is so honored. Jaden Prinzler, sophomore, serves as Captain Spirit to the Horizon High School Ultimate Frisbee Club, a role where one is required to have lots of energy in order to make sure everyone is having fun and making friends. Not only does Jaden need to make sure his team's spirits are up, but he needs to account for the other team too.
Players in the sport even said their favorite part about the club is that everyone in the team is so friendly, and being competitive with each other is the least of their worries.
Emily Dhainin, senior and head captain of the team, decided to join the Ultimate Frisbee "because Ultimate Frisbee is super chillaxed [and] there's no drama."
Windness also mentions, "You prove [your skills] out on the field when you play, and when you leave the field, you're best friends with [the opposing team]."
There's no bad blood between any members or any team, everyone is there to just have fun and try their absolute best.
In addition to winning the Spirit Award last year, the competitive team for Ultimate Frisbee won all four games of the first tournament of this season. During Lakewood's Round Robin on October 6, they scored 8-6 against Arapahoe, 10-8 versus Lakewood B, 11-4 against Lake City, and 9-6 versus Lakewood C.
An obvious element in the team is determination. With their final game of a 9-6 win playing the Lakewood C team, Horizon was shorthanded and exhausted; yet, they still pushed themselves until the very end, finishing out with a win.
Being consistent with their determination and hard work, the team fought off a late comeback when competing against Arapahoe and Lakewood B, and even winning on Universe Point with Arapahoe.
Having fun and having high spirits doesn't stop the Ultimate Frisbee team from achieving the most and being determined until the very end. It's a competitive team that also makes sure to be a united one too.
If you find yourself wanting to join, Ultimate Frisbee Club practices every Thursday after school at Northbrook Park, right behind the student parking lot. Everyone and anyone is welcome to join and have fun.
For more information, visit Horizon High School's "Clubs and Activities" website where Ultimate Frisbee will be listed along with a more in depth description and explanation of the sport.
About the Contributor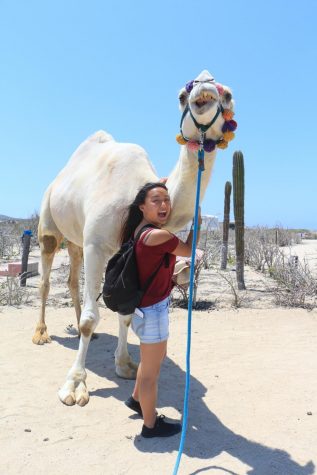 Vivian Hua, Copy Editor
Vivian Hua is a sophomore at Horizon High School. She owns a male Shih Tzu named Pepper, who is her absolute world. English is her second language, with...