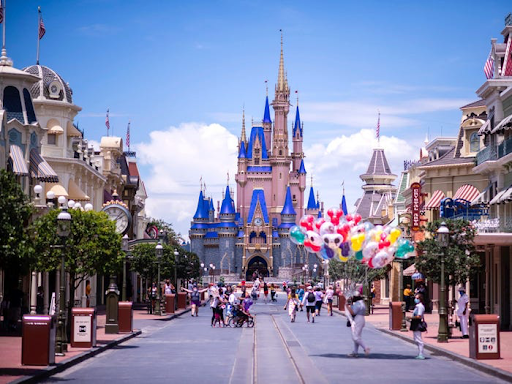 Whether you are a first timer at Disney or it's your 100th time, it is always good to know which attractions are the most popular and fun to ride! This article will give you a basic understanding of which attractions you should visit while at Magic Kingdom. Enjoy!  
#1 Seven Dwarfs Mine Train 
Riders travel to the world of Snow White and the Seven Dwarfs journey through an exhilarating roller coaster ride. This is a family friendly roller coaster ride that is perfect for everyone! Get ready to experience the mine shaft at top speed. But don't worry you will get to see the Seven Dwarfs singing along the way. 
#2 Pirates of the Caribbean 
If you loved the movies, you will love the ride even more. This is perfect for the entire family! Cool off and sit down by taking a boat ride back in time when pirates existed. The voyage is entertaining and thrilling with a few surprises. Look out for Captain Jack Sparrow!
#3 Splash Mountain 
Refresh yourself with a nice splash of water when you ride Splash Mountain. For kids or adults who want the "thrill", this is just for you. Just before the big five- story drop you will enjoy a concert from Br'er Rabbit and his friends. There are lockers available before getting on the ride to avoid personal items from getting wet or lost.
#4 Haunted Mansion 
The Haunted Mansion ride is a perfect representation of the movie. You will feel like you are a character in the movie. The ride is located in Liberty Square in the Magic Kingdom. The autonomatronics and music create a spooky atmosphere. Even waiting in line you will feel as though you are in a cemetery. Disney imagineers do a fantastic job creating realism for each and every ride. This is a must ride when you go. 
#5 Jungle Cruise
The last and final must ride is Jungle Cruise. If you are tired of being inside, cool off on an open aired boat ride as you ride through the jungle. You will experience hippos, birds, elephants, and even headhunters. This is not just a slow ride but a thriller! After riding, enjoy the Skippers Canteen restaurant where you first embarked. 
All five of these rides are MUST DO's while you are vacationing at Disney World. Each of these have something to offer for everyone. Whether you want to cool off from the hot sun or embark on a heart-stopping journey.