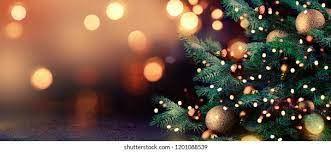 As we all know, Christmas in the United States is a huge holiday and brings joy to many in the month of December. From getting visits from the good old Saint Nick, presents, and family feasts and gatherings, there is always reason to spread some holiday cheer. 
In the United States, the most famous traditions of them all are decorating the Christmas tree, decorating cookies, and setting out the cookies for Santa on Christmas Eve (December 24th). However, the United States is not the only place with unique traditions around this time of year. In this article, I will be talking about the four countries with unique traditions (that I found interesting) to celebrate the holidays.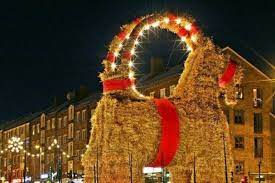 Sweden: 
For the holidays, Sweden has a grand tradition that started back in 1966: A straw goat that is 43 feet high and 23 feet wide. The Yule Goat, also known as the Gävle Goat is used to attract the citizens towards the inner city shops and restaurants. It has huge symbolism in Sweden and is represented as the gift giver alongside Jultomten (Santa) that carries out holiday preparations correctly.  The Goat is placed in Castle Square every year to continue the holiday tradition and carry the holiday spirit in.
Philippines: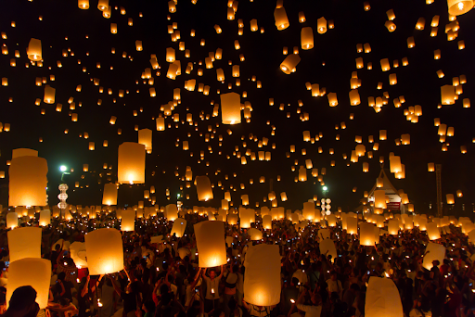 San Fernando is known as the  "Christmas Capital of the Philippines", and every year San Fernando holds a big holiday celebration called Ligligan Parul (Giant Lantern Festival) that features beautiful lanterns that symbolize the Star of Bethlehem. In Filipino culture and in Christan traditions the Star of Bethlehem is related to the birth of Jesus to the Biblical Magi and later led to Bethlehem.  This year the celebration started December 16th and goes till January 2, 2022.
Japan: 
Unlike these other countries, Christmas is not a national holiday in Japan. The history behind this is, Christianity never spread to Japan as majorly as other countries, and the Christmas traditions were never picked up by the Japanese. However, the Japanese have found their way to still celebrate the holiday. On Christmas Day (December 25th), instead of traditional feasts, the Japanese celebrate the holiday with KFC. The tradition started back in 1974 after a vastly successful marketing campaign called "Kurisumasu ni wa kentakkii!" or "Kentucky for Christmas!"
Austria: 
Finally, Austria has the most interesting tradition of them all. They have a devil-like creature known as Krampus, that comes around the holiday season. He is used to scare little children into having good behavior. In their culture, Krampus joins St. Nicolas festivals that start as soon as December 6th. One of the important parts of Krampus is the children are asked for a list of their good and bad deeds. Once they are deemed naughty or nice, they will either enjoy yummy treats such as sweets, apples, and nuts on Christmas morning or be fearful of what  Krampus will bring them next.