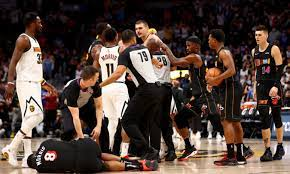 Nuggets fans no longer have to fret because the 2020-2021 NBA Most Valuable Player, Nikola Jokic, is back! The 6 '11 Center has had a 4 game long break after suffering from a wrist sprain and also missed another game earlier in November after an on court incident against the Miami Heat's Markieff Morris. 
The beginning of the break for Jokic was when he shoved the Heat's power forward Markieff Morris in the final few minutes of the Nuggets big win. After a successful rebound by the Nuggets star player or "Joker," Morris seems to have given a hard foul on Jokic while he was making a pass. Jokic responded by pushing smaller-sized Morris with his right forearm. Morris then fell to the ground as the refs and other players tried to calm down Jokic. Jokic was ejected from the game and his actions would be under review by the NBA for possible fines and suspension. 
After the game, Jokic commented on the incident, '"It's a stupid play," Jokic told reporters after the game. "I feel bad. I am not supposed to react that way. … I thought it was going to be a take foul. … I think it was a dirty play. And I just needed to protect myself. I felt bad. I am not supposed to react that way, but I need to protect myself." Jokic is known for having a soft and funny personality, and it was clear in his regret that he had no intentions of harming Morris. 
However, this altercation suspended Jokic from playing in the Nuggets next game against the Indiana Pacers. Before this decision was made, Nuggets Coach Malone claimed, "'I will concern myself when they tell us he's suspended…He's available until they tell me he's not. And I don't see any reason why he wouldn't be available Wednesday night."  Well, Coach Malone was incorrect in his predictions. Still, the Nuggets pulled off with a 3 point win against the Pacers. 
Morris was eventually fined $50,000 by the NBA for his flagrant foul. And Jokic was only suspended for one game, after which the Nuggets were eager for the return of their star player. Unfortunately, this excitement was short-lived. 
After being there for only 4 games back, Jokic took an equal 4 game break while recovering from a wrist sprain. This injury occurred during the Nuggets game against the Philadelphia 76ers. 
It is no coincidence that for these 4 Joker absences, the Nuggets lost each game. 
But don't worry, the Joker is back. He returned just in time for another game against Miami. Only this time, Markieff Morris was not playing due to a neck injury he claims to be a result of Jokic's shove. The final score at Miami was 120 to 111, a win for Denver. Jokic scored 24 points and had 15 total rebounds. The Nuggets have proceeded to get two more losses and a win. 
The Nuggets sure are happy to have their Joker back, especially with the absences of Michael Porter Jr. and Jamal Murray due to back and ACL injuries. Stay tuned to see how the rest of the season plays out for Denver! Their next game is scheduled for December 8 at 6pm against the Pelicans.