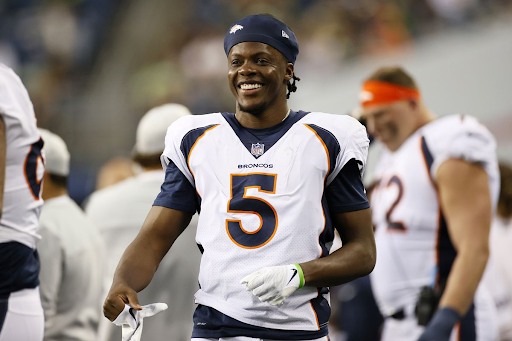 The 2021 NFL regular season kicks off September 9,2021. Fans across the country are preparing for another eventful season of football. Bronco fans however are sitting on the edge of their seats due to the fact that the Broncos are still scrambling for a set quarterback. They have been dealing with this issue since the retirement of QB Peyton Manning in 2016. However, each season since then the team and its fans have been hoping for a return to the Super Bowl.
Teddy Bridgewater's Moment in the Spotlight
Sunday September 12, 2021 is Denver's first regular season game. The game begins at 2:25pm against the New York Giants. As you might have expected the team is starting another quarterback. In the 2021 draft, Carolina traded Teddy Bridgewater to the Broncos in the 6th round pick. The Broncos will fork up 3 million dollars for this trade. On game day, starter Bridgewater will hit a turning point by being the Broncos first black quarterback to start for Denver. Almost five decades ago, Marlin Briscoe initiated a significant breakthrough of racial barriers by starting as the first black quarterback ever in an NFL game. Bridgewater is looking for guidance from him as he hits his own milestone in the upcoming weeks.
What will week 1 look like?
The Broncos roster underwent many changes during the offseason. Now with game day less than a week away here is what to expect.
Projected starting offense:
-QB Teddy Bridgewater
– RB Melvin Gordon
– FB Andrew Beck
-WR Courtland Sutton
-WR Jerry Jeudy
-TE Noah Fant
-LT Garret Boles
-LG Dalton Risner
-C Lloyd Cushenberry
– RG Graham Glasglow
– RT Bobby Massie
Going into game one, Bridgewater is given a good group of receivers to work with. It is just a matter of if the receivers and quarterbacks have a connection that can carry the team to another Super Bowl Championship. Courtland Sutton, being one of the star offensive players, will return this season after missing most of last season due to an ACL injury. Fans should also keep an eye out for rookie Seth Williams, who caught 106 passes and 12 touchdowns in his final two seasons at Auburn. Not to mention, running back Melvin Gordon will be working alongside rookie Javonte Williams hoping to find running lanes in the newly improved offensive line.
Vic Vangios mindset behind starting Teddy Bridgewater:
Drew Lock's shocking bench at quarterback shocks Denver fans. However, in a press conference head coach Vic Vangio defended his decision to start Bridgewater in game 1. He explained that when Drew Lock's pocket isn't functioning properly then he can't perform. Coaches turned their head to Teddy giving him a shot at leading the team. Now all eyes are on him not just in the sense that he is another starting quarterback but setting new records as well.