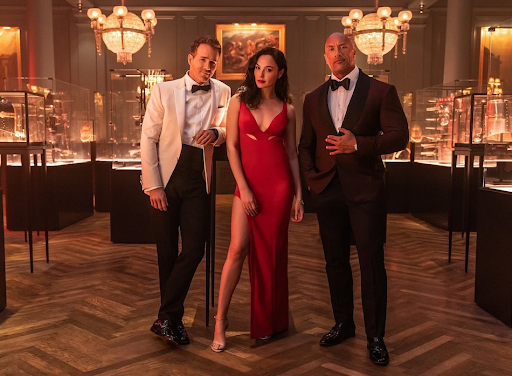 Movies have been coming out left and right this year on Netflix. Some of the top movies coming out on Netflix this year are Red Notice, Don't Look Up, and Kate. These new movies are filled with star studded casts and amazing plot lines. Since there are a total of 42 movies coming out this fall to Netflix, it's important to know which ones you should watch. I've compiled a list of three movies that have received an overwhelming amount of positive and negative reviews by the critics but are still must watch movies. Which one will you watch on the list? 
Red Notice (11/12): 
Red Notice is an upcoming action thriller film written and directed by Rawson Marshall Thurber and will be released onto Netflix November 12, 2021. The film stars Dwayne "The Rock" Johnson, Gal Gadot, and Ryan Reynolds. This will be the third collaboration between Johnson and Thurber after doing Central Intelligence and Skyscraper together. The premise of the film is a global alert went out to hunt and capture the world's most wanted. John Hartley (Johnson) is the do-good FBI agent tasked with bringing in the biggest criminals in the world. His path to justice collides with two rival robbers mid-heist, Nolan Booth (Reynolds) and The Bishop (Gadot). In the trailer, Johnson is seen making a deal with Reynolds to help him find The Bishop and, in turn,  he'll help Reynolds out of whatever international mess he's no doubt entangled in. This movie had a rocky start when there was a bidding war consisting of Universal Pictures, Warners Bros. Pictures, Sony Pictures, and Paramount Pictures. In the end, Universal Pictures won the bidding war but the amount they paid is unknown. All three actors will make a staggering $20 million dollars for this role making Gal Gadot the highest paid actress in the world in 2020. 
Don't Look Up (12/24): 
Don't Look Up is an American science fiction dark comedy written, produced, and directed by Adam McKay. This star studded cast includes Leonardo DiCaprio and Jennifer Lawrence as the main characters and Rob Morgan, Tyler Perry, Timothee Chalamet, Jonah Hill, Ariana Grande, and Meryl Strepp as the ensemble cast. Although there is not much information on what the movie is about, here's what we know: The premise of the film surrounds the story of two low-level astronomers, who must go on a giant media tour to warn mankind of an approaching comet that will destroy planet earth. This movie was McKay's way to tackle climate change and have comedic aspects. Like most films in the past year, they had many problems related to filming, as a result, it's coming out later than expected. After receiving the rights to the movie, Netflix announced that the movie would be coming out sometime later in 2020. However, due to the coronavirus pandemic the filming and release date were pushed. It is now scheduled to have its limited theatrical release on December 10, 2021, and will be released onto Netflix on December 24, 2021. 
Kate (9/10): 
Kate is an upcoming action thriller film directed by Cedric Nicolas-Troyan and written by Umair Aleem. The film stars Mary Elizabeth Winstead, Miku Martineau, Woody Harrelson, and Michiel Huisman. It is scheduled to be released exclusively on Netflix, September 10, 2021. The premise of the story centers around Kate, played by Mary Elizabeth Winstead,  who, after being poisoned on the job while attempting to kill a member of the Yakuza, decides her final 24 hours will be taking revenge against the Japanese crime syndicate. In the process of doing so she befriends the daughter of her former target. This film has received a ton of attention but not for the best reasons. Many critics who have already seen the movie are criticizing it for "A white girl going on an Asian killing spree." The film has a white protagonist with an Asian antagonist with Asia as the cultural background.  Critics don't believe it's a good premise considering the rise of attacks against the asian community a couple of months ago. Despite the backlash this film has gone through, it is still going to get released to Netflix in a couple of weeks. 
Many movies are coming out this year on Netflix, in fact 42 movies are coming out just in the fall. New movies of all genres will be coming out, with all your favorite actors and actresses. What new Netflix movies do you want to see this year?