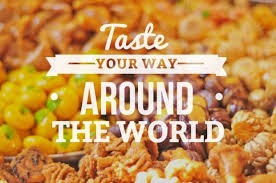 At the beginning of this semester my history class was learning about Imperialism which really opened my eyes. In it we learned about how the British impacted many cultures and vastly affected them. This had me thinking about how America has taken a lot of foods from different cultures and americanized them. After I learned this I made the decision that I wanted to learn how to cook different dinners from different cultures as well as document the experience. The "rules" that I gave myself were once a week, except the first week, I was going to find a different culture and an authentic meal to make. The only reason I am not doing the first week is because I wanted a chance to also just make a family recipe but since it's American food I decided not to document it. 
Chinese Food
Since the 12th was Chinese New Year I figured it was only appropriate that I made an authentic chinese dish. After a bit of searching the meal I thought sounded good was "Cold Noodle with Sichuan Dressing" also known as "Liang Mian". As someone who is a huge fan of chinese food I was very excited for this meal. This is technically not a dinner as it is traditionally served as a snack or quick breakfast/lunch but it filled me and my family enough to be a dinner. A warning with this dish is it does have a bit of a spice kick to it and it's encouraged that if you aren't as good at tolerating spice you accompany this with a glass of milk although that isn't a thing drinken with the meal normally. Something I learned while doing some research is that Chinese adults normally avoid milk as it's seen as "a food for children or the elderly".
The first thing I needed to do with this meal was collect the ingredients which I didn't have so me and my mom had to take a trip down to the Pacific Ocean market which is located in Broomfield. It is a market where they sell things that would be common in a market in Asia. It was a completely different experience compared to going to King Supers. The layout was different as well as the fragrance of the store especially in the spice aisle. Personally all the different spices were overwhelming and made my head spin but other than that the place was very cool. It is recommended that you have plenty of time on your hands if you go there because if it's your first time it will take a lot of time finding what you need. Everything is in a different language but there are English titles too. I was quite surprised when I saw that they had an entire aisle for just noodles and me and my mom spent a few minutes trying to decide what noodles were best. 
The cooking experience was also fun but different as I am not used to the smell of the spices and liquids that we used. When we finally got the eating I found it amazing although, like the recipe said, it did have a kick. I first tried it with the peanuts and cilantro and didn't find it as good as I would have liked but when I ate it without both of those and I found it to be amazing. The flavor was different than things I normally would eat but it's something I would definitely eat again. I inserted a picture of how it turned out. 
Louisiana Food
In a celebration of Black History month I decided to go with a Louisiana dish that became very popular: Seafood Gumbo. Gumbo was remembered along with Jazz music and other things. We already had all the ingredients except for the shrimp which we went out and got. I had known what this food was for a while and it was something that I have always wanted to try. I did find out it is more of a soup which I'm not the biggest fan of but I was open to trying it. After all that was the point of this entire experiment: to step out of my comfort zone.
When I finally got around to cooking it I was super excited as the recipe seemed super easy. However while cooking my mom, who normally helps me with this stuff, had to do some stuff so I was forced to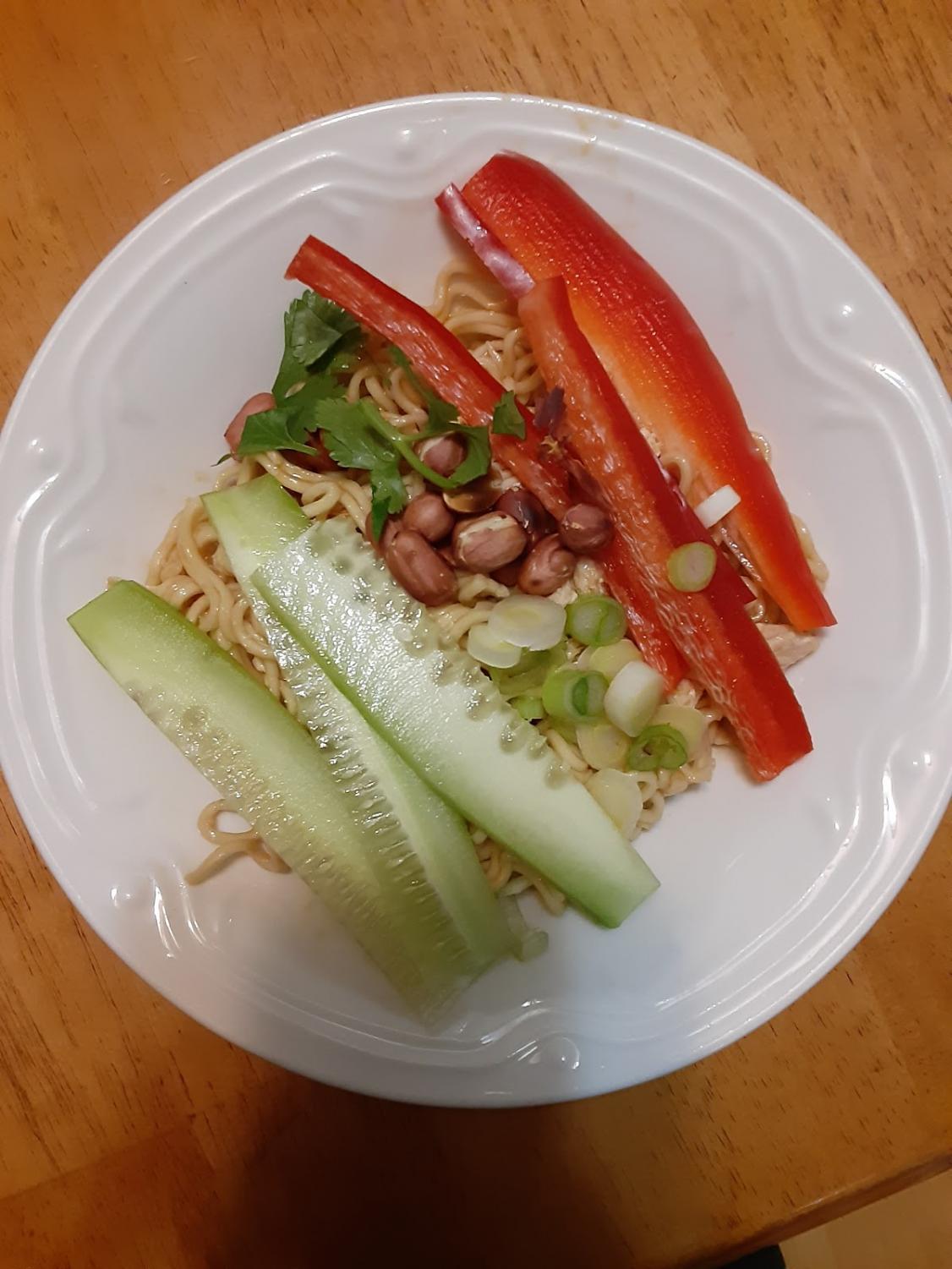 do this on my own which seemed stressful. However I quickly found myself having fun with it and when I finished I felt even more successful. I ended up actually cutting the recipe in half because if I hadn't there would have been way too much. 
The dish itself was amazing. I combined it with rice and it was very enjoyable and I, again, liked the new flavor. The texture is a little different than what I know but it was easy for me to get used to it. I would recommend this dish as well especially if you are a big fan of seafood. I unfortunately forgot to take a picture but it was amazing. 
Japanese food
The final dish I decided to do was a Japanese dish as a way to honor the Emperor's birthday. The dish was called Soba Noodle Salad and for a dessert I made Spiced Apple Andagi also known as Okinawan Donuts. Since I already had the ingredients I needed I didn't have to head back to the Asian market which was kind of disappointing as I really liked the place but I was glad I didn't have to go out. I had fun preparing this dish as well and I had some help from my mom especially with the Donuts. 
When I finally got a chance to taste the dish I thought it was amazing. The flavor was, like everything else, different but enjoyable. It was definitely something I would want to make again. The bursts of flavor and the texture of the noodles went very well together and I found it very enjoyable. There was no warning in the recipe but I found that there was a little bit of spice to this dish which definitely caught me off guard but as a fan of spicy food I was fine with it. Something I found with the donuts is they turned out a lot more like cookies. The recipe said to fry them but when I tried that it didn't work so I threw them in the toaster oven. They had a harder outside and a softer inside that combined had an amazing texture and the flavor was spectacular.  I got a picture of the noodles but unfortunately I didn't get a photo of the donuts. 
This was an amazing experience and I am excited to continue doing this every month. I love trying new flavors and taking a food tour without having to leave the comfort of my own home. I definitely recommend that you try one to all of these recipes and I can promise you that they will be delicious.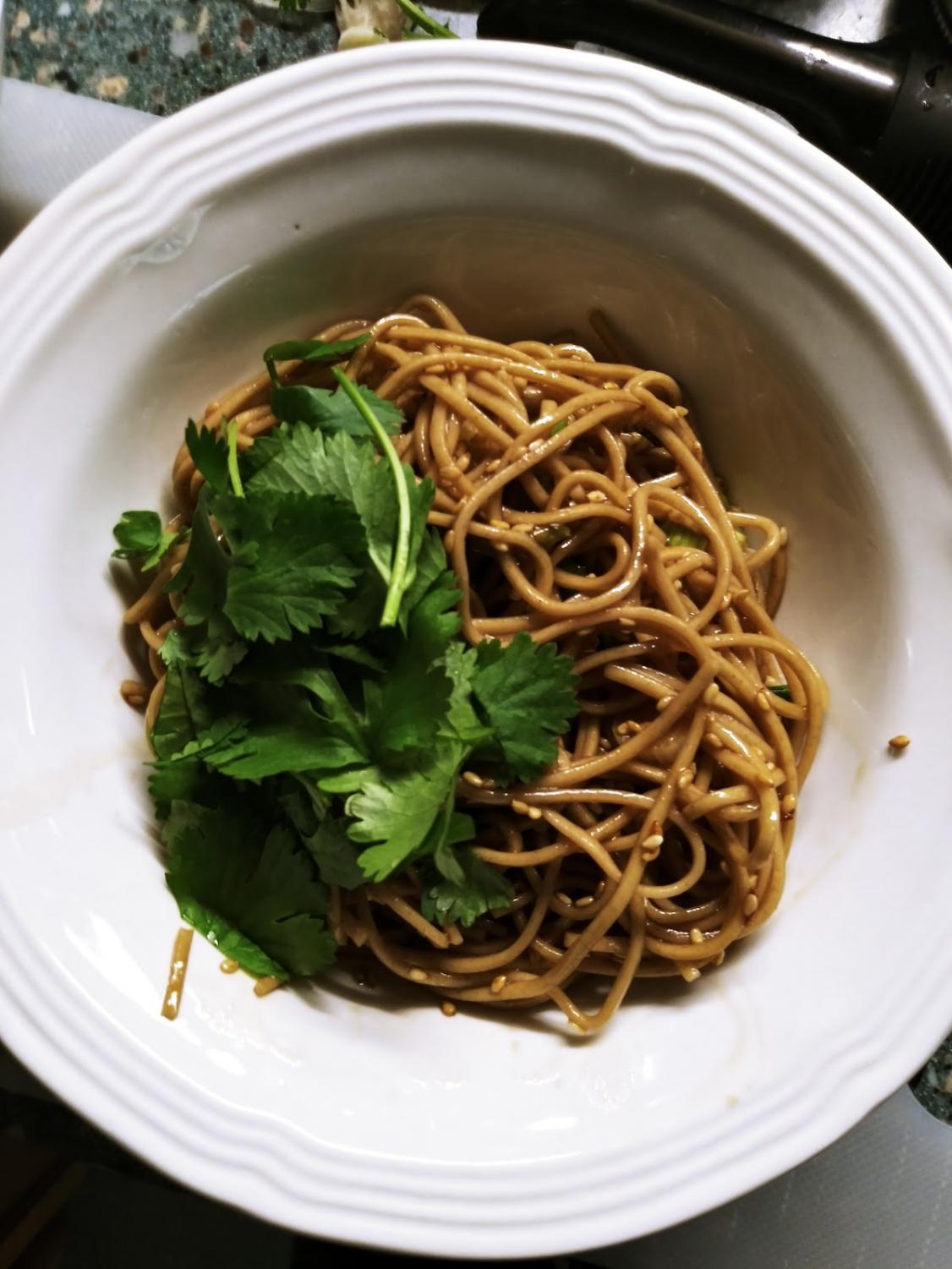 This was an amazing experience and I am excited to continue doing this every month. I love trying new flavors and taking a food tour without having to leave the comfort of my own home. I definitely recommend that you try one to all of these recipes and I can promise you that they will be delicious.