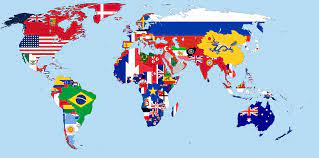 We have all heard what has been presented to us these past few months all because we exist inside a tiny shell within U.S.. Has it ever occurred to you that there are assorted matters happening right now, outside the borders of the place we call home? Let's check inside the outside. 
United Kingdom
On January 15, Britain held their annual, largest winter music festival in Scotland. It is their celebration of celtic music, concerts, ceilidhs, art exhibitions, workshops, and more. Called Celtic Connections, this event was held online due to covid restriction, but that didn't stop the event from being successful. There is a wide range of different types of music that is played; folk, indie, Americana, Gaelic, etc. The purpose of this event is to express art in many forms, in many different demonstrations.
Just recently, Prince Philip, the Duke of Edinburgh and husband to Queen Elizabeth, was taken to the hospital after reporting he felt unwell. Luckly, it was not an emergency admission but at the age of ninety-nine, better safe than sorry. Not Covid relates, but still unsaid, the Prince is to remain in the hospital for a few days. 
After the Brexit trade agreement was placed in London, many natives state that this new system has been disruptive. The UK's financial markets are losing business with Europe and other exports because they have been "forced to watch fresh produce rot as new trade barriers prevented exports reaching European markets in time."
China
China has recently released a prototype for a high speed Maglev train that can reach up to 385 miles per hour. It is sixty-nine feet long and now has 541 feet of track available for it. Professor He Chuan states that it will be available and operated in three to ten years. The innovation here is endless!
Air pollution, on the other hand, has been seen to give off a bad effect towards fertility. The Guardian proclaims, "The analysis of 18,000 couples in China found that those living with moderately higher levels of small-particle pollution had a 20% greater risk of infertility, defined as not becoming pregnant within a year of trying." Pollution can cause inflammation within the body, and China has become recognized for their high-levels of pollution. "The average pollution level for the Chinese couples was 57µg/m3. In London, UK, the average is about 13µg/m3."
Australia
After a 'snap five-day lockdown', Australians are now free to leave their houses and enjoy live pre-usual. The last lockdown cost businesses over one billion dollars due to the hardship of COVID. Now Victorians are out supporting business by dining in and shopping around. Alongside this, students have the green light to return to school, making it possible for cases now to rise again. 
Facebook is now banning Austrialians from viewing news and content after Australia's proposed media bargaining laws. Facebook, after not being able to find any solution between them and Australia's government, Australians are not allowed to post news links or any relatable news context. 
Mexico
Around February 3rd, twelve Mexican police were arrested due to killing nineteen people at the border. Association Press countries, "The Tamaulipas state attorney-general, Irving Barrios Mojica, said all 12 officers were in custody and face charges of homicide, abuse of authority and making false statements." They affirm that they were in the pay of drug cartels, but the attorney does not consider that a possible reason for the homicides. 
Across the border, there was a series of pink see-saws put between the bars allowing those inside Mexico to interact with those on the other side in Texas. These see-saws won the Design of the Year Reward, as they build bridges between communities. The creator, Ronald Rael conditioned, "Walls don't stop people from entering our Capitol. Walls don't stop viruses from moving. We have to think about how we can be connected and be together without hurting each other."