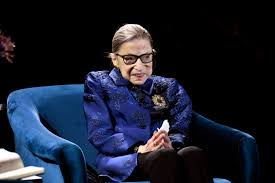 Ruth, a name that has a sweet undertone but has more spunk and strength than you know. This perfectly describes America's beloved Ruth Bader Ginsburg who many refer to as RBG. RBG: three letters that when combined, mean so much to individuals across the nation. The recent death of Supreme Court Justice Ruth Bader Ginsburg has brought intense sorrow to her supporters who were well aware of Justice Ginsber's life's work dedicated to fighting for the rights of all people. Now is the time to celebrate the achievements of this amazing and inspirational American icon.  
Who is The Notorious RBG?
   Ruth, known by her friends and family as Kiki, Bader was born on March 15th 1933 in Brooklyn, New York. Her mother, Celia, died right before Ruth's high school graduation, but was a true driving factor for Ruth's determination, hard work, and passion for doing good and succeeding. Ruth had always been studious and put full effort into everything she did. This was shown when Ruth was at Harvard Law School and continued to take care of her ill husband, doing his school work, all the while doing her own school work and taking care of their first child all at the same time. Martin Ginsburg Ruth's husband, or Marty as he was commonly known, was a huge supporter of Ruth's independence and was with her every step of the way. He did all the cooking for the family, as Ruth was not the best chef, and played a large role in watching the children, which was not the most common thing back in the 50s. This showed that the couple was not afraid to break down the sexist gender roles of their time. Ruth married Marty in 1954 after meeting on a blind date. 
   Ruth first attended Cornell University in 1950, and graduated top of her class. Ruth then went on to Harvard Law School, where she was one of nine women in her whole class. She finished Law School at Columbia and contributed to the law review as she did at Harvard. Not surprisingly, Ginsburg graduated top of her class at Columbia as well. After school, Ruth had a hard time finding a job. Despite her astounding achievements, men dominated most law firm jobs in the 1960s and a woman was lucky to get a job that was something other than a secretary. Ruth worked as a clerk for a U.S. District Judge after which, she was offered some jobs at law firms, but she would not have been paid as much as her male counterparts. Ginsburg then went into the civil rights field of law when she worked on the Columbia Project to study Swedish Law. Ruth became a law professor at Rutgers University Law School and then Columbia. In 1972, Ruth Bader Ginsburg co-founded the ACLU's Women's Rights Project with Brenda Feigen. This contributed to her fight against patriarchy. Thereafter, Ginsburg was appointed to the U.S. Court of Appeals in 1980 by Jimmy Carter and then to the Supreme Court of the United States in 1993 by Bill Clinton. Notably, Ruth was just the second woman to serve as a justice on the highest court of the nation. Ruth got her name "The Notorious RBG" after a fan began calling the tiny Brooklyn native this in reference to the Notorious BIG, who also grew up in Brooklyn. RBG has been recognized as a legal "rockstar" as she commonly wears her iconic dissent collar whenever she is displaying a dissenting opinion in court. 
Ruth's Landmark Cases 
   Two landmark cases that shattered the walls formed by sex discrimination in the United States were Weinberger v. Wiesenfeld and Moritz v. Commissioner. In Moritz v. Commissioner, the first gender discrimination case Ruth argued for, was a tax law case in the Tenth Circuit Court of Appeals. The case was about a Colorado resident named Charles Moritz who was denied a caregiver tax deduction because the law assumed all caregivers were female. Ruth first heard of Moritz's case through her husband, Marty's career in tax law. In her argument before the Court, she argued that the assumption in which caretakers are only women is sex based discrimination which violates many amendments such as the Fourteenth and Fifth Amendments that ensure equal protection and due process under law. Winning this case for Moritz, Ginsburg helped ensure men had equal rights. The Moritz case was displayed in the movie, "On the Basis of Sex," which highlights many of Ruth's achievements and gives a glimpse into her amazing story as a female attorney and champion of gender equality. Similarly, Weinberger v. Wiesenfeld was a gender discrimination case in which Ruth fought against sex discrimination against a man, which quite frankly people tend to assume does not exist. In this case, Ruth argued for Stephen Wiesenfeld, whose wife died giving birth to their son, Jason. Wiesenfeld was unable to get social security survivors' benefits because this benefit was only given to women widowers. Ruth argued that the gender discrimination Wiesenberger faced violates due proccess law of the Fifth Amendment. The majority opinion in this case ruled that the discrimination did indeed violate the Fifth Amendment. Oyez states that, "Justice William J. Brennan, Jr. delivered the opinion for the 8-0 majority. The Supreme Court held that the purpose of the social security benefits for the surviving spouse and children is to enable the surviving spouse to properly care for the children, regardless of the gender of the parent. Gender-based discrimination regarding these benefits is therefore both illogical and counter-productive." These two victories for gender rights were both brought to justice with the help of Ruth Bader Ginsburg. 
My Ruth Story
   As you may imagine, it was an immense struggle to write this article through the blurry vision of tears. I wanted it to be perfect, because it is intended to honor someone who is very important to me. Ruth Bader Ginsburg is a definite inspiration of mine. She has guided me to not only stand by my values, but also to not give up and to always fight for what I believe in. All of my friends and family knew how important RBG was to me, so when I heard the news of her death I broke down in tears. Two of those friends can advocate for the immediate grief and surprise I experienced when I found out, and I know I am not the only RBG fan who had a reaction like this. I have used some of Ginsburg's inspiring quotes for speeches, projects, and assignments I did for school, but I would also apply her quotes to my daily life. After I learned who Ginsburg was years ago, I immediately loved how she was a fearless feminist, as I am. I have always grown up knowing I want to do something good in life, I want to make a positive impact on the world. After shuffling through desired jobs, like how I wanted to be a teacher when I was in kindergarten and an author as I found my passion for writing, I had a realization one day. This realization was that I wanted to become a lawyer, and not just any lawyer, a civil rights attorney. Thanks to Elle Woods in Legally Blonde and Ruth Bader Ginsburg, the burning passion for civil rights, equality, activism, and law grew within me. If it was not for Ruth Bader Ginsburg and her fight for gender equality, I would not have been as welcomed into the law field as I am today, and I have infinite thanks for that. Ruth Bader Ginsburg has paved the way for so many people who seek equality as she did, and she has inspired many young activists like me. Thank you Ruth Bader Ginsburg, for inspiring and empowering so many girls like me. 
Ruth's Legacy
   If you are a woman and enjoy the freedoms of being able to sign a mortgage and have an independent bank account without a male co-signer, thank RBG. Do you have a job without gender discrimination? Thank RBG. Do you have kids and a job? Were you pregnant while working and kept your job? Thank RBG. Her endless battles to fight discrimination have an everlasting impact that women and men alike will always benefit from for generations. Resilient. Unique. Talented. Honorable. You could never limit Ruth Bader Ginsburg to just four words, but these give a brief glimpse at who this amazing woman was. She was resilient, unique, talented, and honorable. Even though Ruth's strength and accomplishments seem unmatchable, she was also quite a reserved person. She was strong and used this strength to selflessly fight so others can have a better quality of life. Ruth fought for equality and she was successful in her endeavors. Although there is still a long way to go to achieve true justice for all, and we may never fully get there, Ruth got us a little closer to that utopia. She fought for us, so now it is time to honor her and her life's work. Thank you Ruth Bader Ginsburg.  RBG has a lasting impact and it will forever be more than a name. 
"Fight for the things that you care about, but do it in a way that will lead others to join you."