Sticking with it: The Colorado Avalanche
After having a rough year, it seems that mile high hockey is back on track.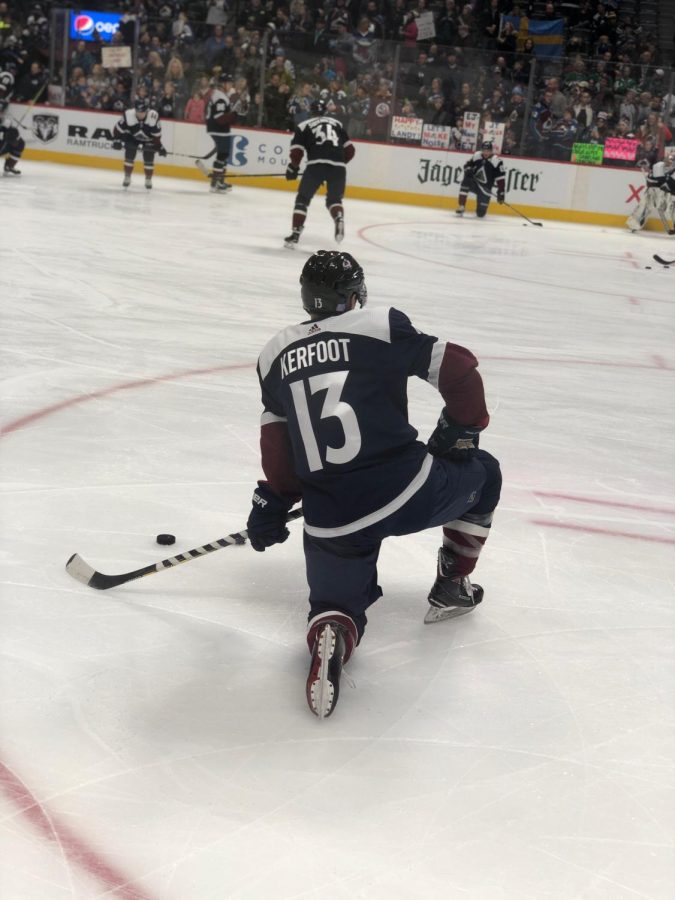 Peyton East, Sports Editor
December 6, 2018
The National Hockey League is constantly changing. There seem to be more and more upset games (where a team that's not doing so hot surprises everyone and beats a top team). The standings are always shifting.
Fortunately for Colorado hockey fans, the Avalanche have been in a pretty good spot for a while now. Sitting fourth in the league after winning 16 games so far this year, they also sit just second in the Central division. With them are some of the best teams– such as the Winnipeg Jets or the Nashville Predators. This might come as a shock to people who have not kept up with the Avalanche in the last year or so.
In the 2016- 2017 season, the Colorado Avalanche only won 22 of their 82 games, ending the season with only 48 points– dead last in the league. This was the first season with their new coach, Jared Bednar, who replaced Patrick Roy, the old coach who won two Stanley Cups with the Avalanche as a goalie in 1996 and 2001. Unfortunately, Roy had to leave his coaching position due to some personal conflicts.
There were many skeptical fans upon Bednar's arrival– as he had never coached or played for a NHL team before– but Coach Bednar was able to completely turn the team around during the the 2017- 2018 season. With the help of General Manager Joe Sakic, who also helped the Avalanche win two Stanley Cups during his career as a player, Colorado made it to the playoffs and finished the season with 95 points, making their season  one of the greatest turnarounds in NHL history.
Part of this turnaround was the result of new, young talent recruited on the team thanks to the drafting picks of Joe Sakic. Although the team already had talent like Nathan Mackinnon, Gabriel Landeskog, Nikita Zadorov, and Mikko Rantanen, many essential additions were made to the team.
Sakic's main goal for the team is to build a strong, young base. Some of these young stars include Tyson Jost, Alexander Kerfoot, Samuel Girard, and J.T. Compher.
Tyson Jost is a forward who played for one year at the University of North Dakota, tallying 35 points in 33 games. He was then drafted 10th overall in the 2016 draft by the Colorado Avalanche. Jost (pronounced like "post" with a J) also has a history playing with Team Canada at the World Juniors, where he helped the team receive a silver medal in 2016. He tallied 22 points his rookie season with the Avs and continues to grow.
Alexander Kerfoot is also a forward, who typically plays more center than wing. He completed four years at Harvard and had  a huge impact on their ice hockey team. He had a total of 123 points in 121 games through his four years in Crimson, and was a Co-Captain his senior year. He was a Hobey Baker finalist (an award for best College Hockey player). After leading his team to the Frozen Four for the first time since 1994, he won the John Tudor Memorial Cup as Harvard's MVP. He was drafted 150th overall in the 2012 Draft. After graduating college, Kerfoot found himself in Colorado, recording 43 points his rookie year. Standing at only 5'10", what he lacks in size, he makes up for with his play-making abilities and "on-ice vision."
Samuel Girard was an asset the Avalanche received after a three way trade with Nashville and Ottawa, where Colorado lost one of their biggest players, Matt Duchene. Girard is a small defensemen who has proved his place in the NHL. He was drafted 47th overall in the 2016 draft, and recorded points 45 his rookie year in the NHL.
Joseph Taylor "JT" Compher is another forward who has been critical to Colorado's recent success. He has a background with the US developmental team, and played three years at the University of Michigan. His last year at Michigan Compher recorded 63 points in only 37 games. He was drafted 35th overall in 2013 by Buffalo, but was later traded to Colorado. After playing a year in the minors, Compher came up to the NHL and has continued to make an impact ever since.
Two years ago, many Avalanche fans lost faith in the team after finishing last in the league, but many more fans have come back to the team thanks to the new players and changed program. Who knows? Maybe there is even a third Stanley Cup in their future.